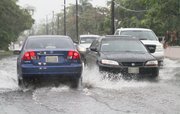 By RASHAD ROLLE
THERE will be more showers and thunderstorms across the Bahamas over the next few days according to Rob Miller, a meteorologist at AccuWeather.
Mr Miller said: "An upper level feature has been slowly moving through the area the past two days, tapping into the rich tropical moisture in the area.

"The weather system is now in the northwest of the Bahamas and has moved into Florida, causing heavy rains there.
"The threat of rain still exists for the Bahamas and more showers and thunderstorms can be expected there over the next few days."