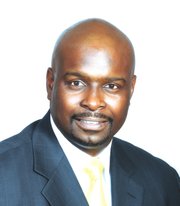 By AVA TURNQUEST
Tribune Staff Reporter
aturnquest@tribunemedia.net
THERE will be no exploratory drilling commercial quantities of oil in Bahamian waters this year, Environment Minister Kenred Dorsett confirmed yesterday.
As the government works to implement new regulations to govern petroleum exploration – and its environmental impact – Mr Dorsett said the Bahamas Petroleum Company will not be permitted to drill its test wells until the legislation is in place.
The test wells are conditional on the three-year extension granted to BPC's five oil exploration licences.
The licences were extended until 2016, and its terms oblige BPC to start drilling its first well by April 2015.
Speaking to Tribune Business last week, Simon Potter, BPC's chief executive, said the company had done everything it could "remotely" to determine whether commercial quantities of oil are located in Bahamian waters, and that the only step left was to drill an exploratory well.
Mr Dorsett said: "Additional to that the government has imposed new requirements which ensure that no drilling whatsoever will be able to be advanced until the new regulations are put in place, and so we have indicated to them that while the license is renewed it will also be subjected to the new environmental regulations that we intend to advance.
He said: "Those are the regulations that we are now working on with the Attorney General's office."
In April, Mr Dorsett said legislation containing the necessary regulatory framework for oil exploration in the Bahamas could be before Cabinet with in the next 30 days.
Yesterday, he said: "AG has given us a time frame for the end of this calendar year and so we are working assiduously to attempt to have it completed before then but she has given us a time frame of up to the end of the calendar year to get it done properly. Mr Dorsett added: "You won't see any exploratory wells this year that is for sure."
The Government announced back in March that it would allow exploratory oil drilling to determine whether there are commercial quantities of oil in the Bahamas prior to any referendum.
Mr Dorsett at the time announced it was unlikely that there would be any referendum on oil exploration in the Bahamas prior to the 2015 second half.
If commercial quantities of oil are discovered in the Bahamas, the Government has said it would engage the Bahamian people in an extensive public information programme to ensure all facts were made available before a national referendum.