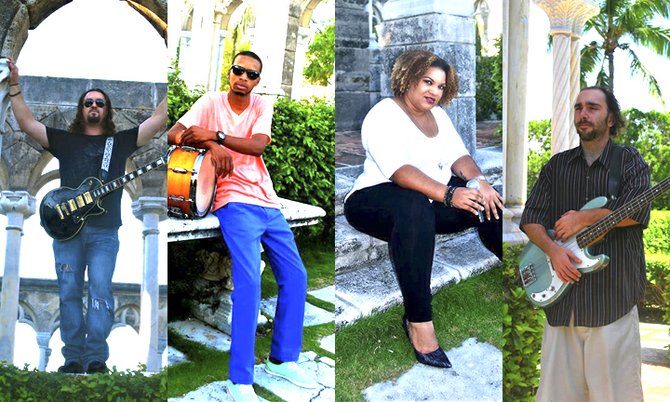 By LESH
Tribune Features Reporter
acadet@tribunemedia.net
IF you are ever in the western side of the Downtown area of New Providence on a Saturday night and hear the sounds of a live alternative/rock band, that sound in your ears is probably Wunderlind Band.

Since December 2012, band members have been making a name for themselves in the Bahamas. They are now calling the Pirates Pub and Grill in Downtown Nassau their home, where they can be found playing every Saturday at 9.30 pm.

Nicole Farquharson, Wunderlind Band Manager, said the band was formed as the Oakrah Band in 2012 but after a few member changes the Wunderlind Band officially came about in June 2013.

Nicole said: "Although still in its infancy, the band has blossomed into one of the better alternative/rock bands in New Providence. Each week has seen a marked growth in the fan base with persons asking about original music and band performance dates."

Wunderlind members are guitarist Justin Roberts, bassist Patrick Knowles Jr, drummer Renaldo Forbes and vocalist Khonica Prosa. Nicole said the band's genre is primarily Alternative/Rock with original twists on traditional Bahamian music.
"
The vocalist has a unique strong style which is complemented by the guitarist's intense connection with the music. The bassist has a wonderful grasp of the music and the drummer brings every song to life. The band also has plans to get involved with community outreach initiatives in the near future with a focus on youth programmes," said Nicole.
Why did they decide to call themselves the Wunderlind Band?
Nicole said it came about during a time when they were trying to describe the band's sound.
"Wunderlind is the special place we imagined that our audience would arrive on this eclectic musical journey!" she said.
There is no official album released as yet, however, Nicole said they have started working on original music and should have a few songs recorded this year.
" A full album is our goal and we look forward to having that recorded and released by the end of 2014," she said.

Nicole said she believes that there is a market out there for Bahamian music and artists, traditional Bahamian music and other genres.
"It is up to the musicians to keep the music fresh and entertaining and as Bahamians we should support our artists, which is not being done on the level that it should right now. "There is a huge international interest in Bahamian artists and their music which can be expanded with the right support locally," said Nicole.

As Wunderlind's manager, Nicole said she feels that it is important to ensure the band lives up to its potential by setting goals for each individual member as well as setting goals for them as a unit, whether it's keeping them aware of the importance of scheduled rehearsing, stage presence at gigs, recording a demo tape or first album, setting up a tour, interviews or appearing on radio and television.
In the upcoming year, Nicole said fans can expect new songs, new venues, and more.
"We look forward to our fans continued support," she said.