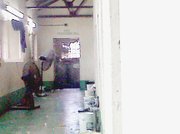 A NATIONAL security plan that focuses only on locking up as many lawbreakers as possible will never bring about a safer society, activist Omar Archer insisted yesterday.
Responding to the release of a series of photographs, allegedly taken recently inside Her Majesty's Fox Hill Prison, Mr Archer also hit out at conditions at the penal facility.
"No Bahamian citizen should be subjected to living in such inhumane slave-like conditions," he said when shown the pictures.
He said nothing in the photos suggests a much-needed commitment to prison reform – and because they reveal this fact, the release of the images was a "good thing".
Mr Archer said: "It's the people's dismay and shock that will become the engine for public policy reforms. After those in power recognise the growing public support they will be forced into action and do then that they lack the political will to do now."
According to Mr Archer, the "misguided idea" that filling prisons decreases crime has been used by politicians over the years to appear as if they are tough on crime.
"When they do get serious about addressing prison reform they can start by renaming the prison Her Majesty's Prison and Rehabilitative Centre," Mr Archer said.

"It costs $75,000 per day to feed 1,500 inmates, or $525,000 per week, or $27,300,000 just to feed and clothe inmates per year.
"With 75 per cent of inmates being high school dropouts, would it not be wise to educate these inmates through a clearly defined prison reform programme?" he asked.
Mr Archer noted that there are literally hundreds of inmates on remand at Her Majesty's Prison still waiting for a date when their cases can be heard.
Many have been waiting for years, especially those who cannot afford a lawyer, he said.
"This is a clear and blatant violation of these individuals constitutional rights.
"For many hope has been lost and life has become a revolving door of drugs, violence, crime and incarceration. The depth of the mental and psychological scars are immeasurable while everyday these very individuals are released back into society. They are our family, our neighbours and friends.
"With this said, I am inclined to embrace (opposition leader) Dr Hubert Minnis' approach to crime, when he said 'Crime is not political and all Bahamians must unite in the fight against crime'.
Mr Archer called on the present government to embrace the idea that the mind-set of prisoners must be changed before they can be released.
"One in every 233 Bahamians is behind bars today. This in itself should be a Goliath call for immediate reform, no doubt.
"My advice to this government is: it's not how tough you can be on crime, but rather how smart you can be," he said.