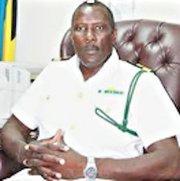 THE Tribune is continuing to run profiles of the fathers selected by Mount Tabor Full Gospel Church for its anniversary celebration. Today, the Third Bahamian Commodore of the Royal Bahamas Defence Force, Clifford Wellington Scavella.
Clifford Wellington Scavella began his career in the Defence Force as a Marine Recruit in 1979.

Following New Entry training, he served aboard HMBS Inagua, the Defence Force armoury, and as an instructor in the training department.

He was transferred to the then Military Operations Platoon (MOP), during which time he was selected and successfully completed the Royal Marines Commando (Green Beret) Course in Lympstone, England in 1983. He also attended the School of Infantry in England in 1985. In 1987, he attended the Britannia Royal Naval College, Dartmouth, England, and the Royal Naval College, Greenwich, England. After successfully completing both courses, he returned to serve as Assistant Military Operations Platoon Officer. He received his commission as a Sub Lieutenant on the 23rd December 1987, and his Bridge Watching Certificate in 1991. He was promoted to the Rank of Lieutenant Commander on the 1st October, 1995. Mr. Scavella has served as Military Operation Platoon Officer, Assistant Squadron Commanding Officer, Executive Officer and Training Officer. He was one of the key organisers in the RBDF deployment of troops in the Caribbean Community (CARICOM) Multi-national forces and United Nations Peacekeeping Operations in Haiti in 1994.
In June 1999, he received a Bachelors of Arts Degree in Public Administration from Sojourner Douglas College. He was appointed Bahamas Consul to the Republic of Haiti in 2001, and on his return to Nassau, was appointed by the Ministry of Foreign Affairs as Chief Passport Officer in 2003.
He retired from the RBDF as Commodore on 21 January 2009. Also in 2009, Mr Scavella served as the Bahamas Ambassador to the Republic of Haiti until 2012.

An avid sportsman, he enjoys playing softball and has represented his country on numerous occasions at the international level. He has also held key positions within the New Providence Softball Association (NPSA) and the Bahamas Softball Federation (BSF). Mr Scavella was born in Hatchet Bay, Eleuthera, on March 27, 1957, and received his early childhood education at Hatchet Bay All Age School.

Married to the former Sharon Johnson, the couple have two daughters, Aszarri and De'Atra. They worship at the Wesley Methodist Church, Grants Town.