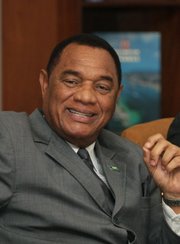 THE country needs strong fathers and father figures in the lives of its young people, said Prime Minister Perry Christie.
Mr Christie was speaking at the 'Celebrating Our Fathers' event held by Mount Tabor Full Gospel Baptist Church at the Sheraton Hotel on Friday.
The church, under the leadership of its Senior Pastor/Teacher, Bishop Neil Ellis, in conjunction with The Bahamas' 40th Independence Committee, recognised and highlighted 40 distinguished men from throughout The Bahamas who stand out in their role as fathers and father figures and who have made contributions to the ongoing development of the nation.
The Prime Minister said: "Bishop Ellis and his church are doing a great thing by recognising and uplifting fathers as part of the 40th Anniversary of Independence celebrations."
He said the men were nation builders and had made a significant impact on the country's development through contributions within their various areas of expertise.
He said: "These men are beacons in their communities and have raised children and grandchildren to follow their examples as leaders and trendsetters.
"The theme for the country's anniversary celebrations is 'The Bridge to the Future, the Journey Continues'. The 40 fathers here all began their journey for their children, families and for their country.
"It is now up to the younger generation whose lives these men have impacted, to continue the country's journey."
The Prime Minister said the nation faced many challenges including the absence of fathers in many homes and in the lives of their children.

He said: "We cannot underestimate the important roles fathers play. While we do need more police officers on patrol, fewer guns on the street, more money for good education, and more extra-curricular programmes for our children, we also need to recognise the crucial role the family plays in helping to mitigate crime, and raise well-adjusted contributing members of society."
He said for the country to continue on its path towards excellence, there must be a devotion to emphasising the importance of the family and the need to have fathers and father figures present in the lives of young people.
"Many of our honourees are religious leaders, who have become father figures to their members, others are involved in education, sports or culture shape young minds and lead teens and groups."
Prime Minister Christie said when fatherhood is discussed, individuals often think about the relationship of a father and his son.

"From our fathers we learn about manhood, and it is after them that we often pattern ourselves. Fathers must also be aware that they are models of manhood for their daughters. It is from her father that a daughter first learns how a man should treat her," he said.
The Prime Minister said a strong father has respect for the mother of his children, and fathers help to raise better children when they treat their wives as equals, showing children that mothers' contributions and opinions are as important.
He said that being a good father also requires compassion.

"Compassion is the key to our humanity. We must in all things be compassionate men." He added: "Good fathers and good leaders also have good work ethic. I learned from my father that nothing worth having comes easily; hard work is necessary to achieve great things."
• HOW are you celebrating independence this year? Tell us your story by emailing newsroom@tribunemedia.net or calling 502 2366.