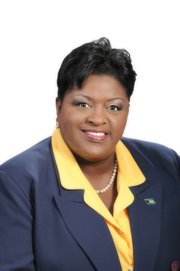 OFFICIALS at the Ministry of Social Services and Community Development said a pilot study of the Proxy Means Test that will be used as part of the Conditional Cash Transfer System of the Bahamas Social Safety Net Programme went "extremely well" – despite some minor issues.
The PMT was piloted last month in New Providence, Grand Bahama, Eleuthera and Cat Island.
"I had the opportunity to sit in on the debriefing session with the staff from the four islands on which the PMT was administered, the IDB (Inter-American Development Bank) consultant who designed it, and the project team leader. The consensus was that while there were some minor issues primarily with the wording of some questions, the pilot went very well," Minister of Social Services and Community Development Melanie Griffin said.
"The feedback will allow the consultant to make the necessary adjustments to the form so as to ensure that it meets its intended purpose when put into use."
Mrs Griffin said the PMT, as with other aspects of the Bahamas Social Safety Net programme, will play a big role in the future delivery of social services in the Bahamas.
"The current process by which people apply for and are approved for social assistance is very subjective," Mrs Griffin said. "This subjectivity will be removed through the introduction of the Proxy Means Test which will be a requirement for all applicants.
"Each question on the PMT will be given a numerical weight and a state-of-the-art informationa management system will determine eligibility. This allows the applicant to be informed of the outcome immediately.
"Persons determined eligible will be visited by a social worker who will verify the information on the PMT. There will be an appeals process for persons deemed ineligible. An appeals board will be established for this purpose."
Mrs Griffin said the health and educational conditions with which households with children will have to meet, have already been broadly determined and are being fine-tuned with the assistance of external consultants.
Households with children who meet the stipulated conditions will receive the full monthly benefits but those who fail to do so will receive a reduced benefit.
"It is not the intent to create hardships for persons by reducing benefits, but we must appreciate the need to enhance the health and education of our children so that they are not destined for a life of poverty and the objectives of the project is to build human capital and modify behaviour to eliminate dependency on welfare," she said.
Mrs Griffin said several options for the payment of the transfer are being explored and "while the proposed method has not yet been determined, I can tell you that persons will no longer have to queue up at the end of the month outside an outreach centre, often exposed to the elements and wait on lines sometimes for hours to receive assistance."