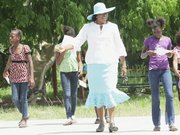 By DANA SMITH
Tribune Staff Reporter
dsmith@tribunemedia.net
URBAN Renewal 2.0 co-chair Cynthia "Mother" Pratt hit out at the "naysayers" of the programme – calling on those who criticise it to "get up off your rump and do something" to help the country.
She and fellow co-chair Algernon Allen were leading a walkabout through Nassau Village, yesterday afternoon, where they visited several areas – including crime hot-spot Matthews Street, which police on the scene dubbed, "The Warzone".
"This work is not an easy job, it's not a pleasant job sometimes. But at the same time, we want results for our country," Mrs Pratt said. "This is our country and whatever we can do – I'm calling all and sundry – whatever you can do to help, come.
"Don't mind the naysayers and those who are talking; we're concerned about results. This is our country and if we all can't fight for our country, we are all going to go down, together.
"This is all we have and so I'm saying to all of those who can help, come. Don't listen to what the naysayers are saying. This is home and we want our country as a peaceful nation... Instead of criticism, let's encourage, let's see what we can do; you out there criticising, get up off your rump and come do something. Help, and stop criticising."
Supt Stephen Dean explained that the walkabouts aim to target certain areas in the community.
"These walkabouts are strategic in nature. The police have the intelligence, the police know what exists in these areas," he said.
"There have been incidents in Nassau Village. We wouldn't want to call it a high-crime area, but it has negatively impacted Nassau Village.
"We believe that there is some positive in Nassau Village, there's some good people in here, it's only a few causing problems for us."
Nassau Village MP and Deputy Speaker of the House of Assembly, Dion Smith, also dropped in near the end of the walkabout and praised the actions of Urban Renewal.
"As we've been hearing on the news, there's a lot of crime happening in this area – either victims of crime or persons that the police may think are some suspects; so there is an unacceptable level of crime that goes on in this area," he said.
"I think the Urban Renewal is so important because they're not just standing or staying in their offices and trying to tell persons how to deal with crime and how to combat crime and how we should resolve conflict, they're actually coming in the area, as you can see today."