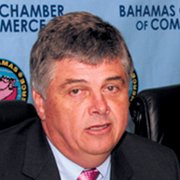 By NEIL HARTNELL
Tribune Business Editor
nhartnell@tribunemedia.net
The Government and private sector must be "sensitive" to prevent the former's planned $465 million borrowing over the next 12 months from 'crowding out' other capital markets fund raisings, a top investment banker has warned.
Michael Anderson, RoyalFidelity Merchant Bank & Trust's president, told Tribune Business that while the $1 billion-plus surplus liquidity in the commercial banking system was enough to accommodate both private offerings and the Christie administration's deficit financing, "timing" would be key.
Stressing that both sides would need to know when the other was coming to market, to avoid 'crowding' one out, Mr Anderson also expressed concern over the Government's desire to reduce its borrowing costs.
With the Christie administration seeking to lower interest rates attached to its Government Registered Stock (BGRS) and Treasury Bill issues, Mr Anderson said it might become harder for private issuers to convince investors to part with their capital, as the rewards (returns) would be less.
While emphasising that the Government's 2013-2014 fiscal year borrowing requirements were unlikely to 'crowd out' the private sector in and of themselves, Mr Anderson warned that there was always a relatively finite supply of capital in the Bahamian market.
"I think there's a certain amount of capital in this market," he explained. "Whether you give it to the Government or a private sector deal raising. what goes into one is going to impact the other.
"What the Government comes into market to raise will have a detrimental impact on the ability of the other entity to raise."
Asked whether the Christie administration's deficit financing, which will total almost $1 billion for its first two years in office, would 'crowd out' the private sector, Mr Anderson told Tribune Business: "I don't see it at the moment.
"There is a reasonable amount of liquidity in the system to meet the demand from the public and private sectors. At this stage I feel reasonably confident it won't be a problem."
Low bank deposit rates meant Bahamian investors were looking for alternative investments, chiefly fixed income and equity offerings, to generate their desired returns.
And, after a slow start to the year, the Bahamian capital markets have started to warm up. Fidelity Bank (Bahamas) $10 million preference share issue has been followed by this week's $21 million preference share issue by the Arawak Port Development Company (APD).
Beyond these, further capital raisings include the likely $55 million Public Hospitals Authority (PHA) bond issue, and a possible $40 million debt issue by Cable Bahamas (if its three US acquisitions ever gain government approval).
With potentially $100-$150 million in private sector capital raisings likely to emerge during the remainder of 2013, Mr Anderson said co-ordination between issuers would be key.
"Timing is reasonably important," he told Tribune Business. "We've got to be a bit sensitive, knowing when Government is going to come to market so that we time other investments such that they do not conflict with each other."
Acknowledging that the Government's borrowing needs "make it more difficult" for private sector capital raising, the RoyalFidelity chief said the low interest rate environment - as seen in APD's 5.5 per cent coupon - would also make it harder to attract investors.
"There's pressure to reduce rates," Mr Anderson told Tribune Business. "The Government is trying to reduce rates and borrow more money, so it's harder for people to rationalise why it makes sense to put that much money into an investment and not possibly get adequate compensation.
"I know the Government is under pressure to reduce the cost of borrowing. But people want to pay less and get more. There's this dynamic that makes it harder to raise money. The lower you drop the rate, the harder it is to get people to invest large amounts of money."
Investors wanted to receive a premium for the risk they were taking on their investment, and Mr Anderson said the Government's moves to reduce its borrowing costs would have a knock-on effect for private capital raisings.
He added that capital markets offerings needed to "maintain this gap, maintain this spread" between what its issues offered and the interest rates on banking sector deposits.
And Mr Anderson warned that the increased government borrowing was also likely to result in "pressure" on the Bahamas' external reserves, given that 85 per cent of every $1 in circulation typically leaked out on overseas imports.
"We need more tourism and foreign direct investment to begin to fund the foreign reserves," Mr Anderson said. "Absent that, this borrowing will have a negative impact on them."