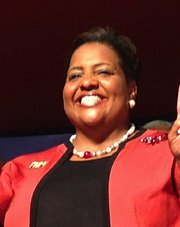 By KHRISNA VIRGIL
LORETTA Butler-Turner, FNM deputy leader, wants the government to abandon moving ahead with its highly-touted National Training Agency (NTA) Bill.
The agency, which the government has pledged will be more far reaching than the previous FNM government's job training and placement initiative, is expected to assign persons to various areas based on competency.
However, in parliament yesterday, Mrs Butler-Turner insisted that millions in taxpayer dollars are set to fund a repeat of mechanisms that are already in place through the Apprenticeship Act and the Bahamas Technical and Vocational (BTVI) Bill.
"Why are we as Bahamians reinventing the wheel?" Mrs Butler-Turner questioned.
"My issue is that we have the legislative framework. We have the institutional framework already in place to achieve all that is being put forth.
"We are creating another level of bureaucracy that is unnecessary in this environment. We are talking about cutting back on the current expenditure of government because of the challenges we have in creating a higher deficit.
"I suggest they need to stop, cancel and review this piece of legislation and move on with what we have in place already."
The BTVI Bill passed in 2010 with the apprenticeship bill together allows for the technical and vocational training of students in core areas of the Bahamian economy; and ensuring that understudies are appointed in specialised areas.
However, the PLP maintains the BTVI Bill was inactive until recently as no board had been appointed for the institute. They believe that the NTA Bill is one of the most important pieces of legislation that the Christie administration will pass with major developments, including Baha Mar set to begin operations soon.
With such major developments, it is projected that thousands of jobs will be created.
Labour Minister Shane Gibson said: "By creating the agency, the government has made an unprecedented commitment to the development of the Bahamian people, especially the youth and young adults under the age of 25 whose categories reflect the highest rate of unemployment in the nation.
"It will strengthen and develop relationships between employers and their organisations and training institutions, providers and trainees with the end result being a more productive and service-oriented workforce.
NTA is expected to graduate 3,000 to 4,000 trainees annually. Officials further expect that NTA will receive international accreditation from City and Guilds, a leading global technical and vocational entity.
The agency will be officially launched on July 15 at the facility at the corners of Munnings and Gladstone Roads.
Former South Beach MP Agatha Marcelle has been appointed as NTA's director.