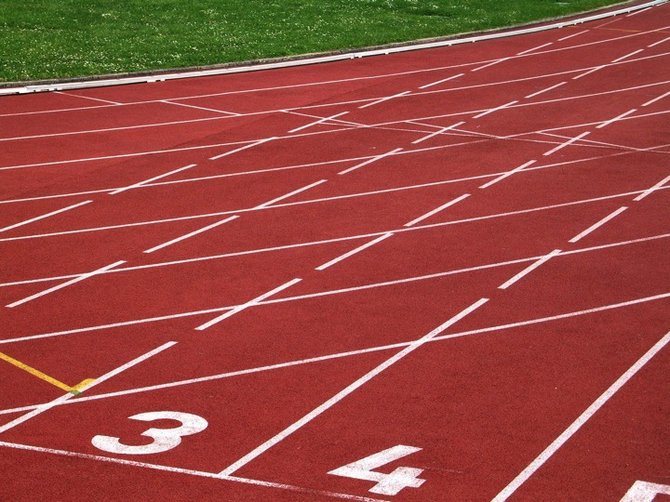 By BRENT STUBBS
Senior Sports Reporter
bstubbs@tribunemedia.net
THE defending champions CR Walker Knights hold a slim seven-point lead over the CV Bethel Stingrays going into the final day of competition in the senior segment of the Government Secondary Schools Sports Association's Track and Field Championships.
The Knights accumulated 308 points on Thursday as the championship got started at the new Thomas A Robinson Track and Field Stadium. The Stingrays were hot on their trail with 301. Sitting in third with 147, the Government High School Magic has started a resurgence of their famed programme.
Rounding out the field are the RM Bailey Pacers with 144, the CI Gibson Rattlers with 135, the CC Sweeting Cobras with 93, the Dame Doris Johnson Mystic Marlins with 87 and the Anatol Rodgers Timberwolves at the bottom of the pile with 69.
CR Walker and CV Bethel share the lead in two of the four divisions. The Knights posted 95 points in the intermediate girls and 82 in the senior girls. The Stingrays controlled the senior girls with 88 and the intermediate boys with 70.
The opening day featured the finals of the 100, 400, 1,500, 5,000 and 4 x 100 relays on the track. There were limited events on the field which has primarily been shut down due to renovations for the BTC Carifta Games that is scheduled to take place over the Easter holiday weekend.
The majority of the field events are being held at the College of the Bahamas. Those events that were not contested yesterday will be in the spotlight today as the meet wraps up. On the track will be the final of the 200, 800 and the 4 x 400 relays.
The meet opened with Cimeleo Darling of RM Bailey easily winning the senior boys 5,000m in a time of 17 minutes and 50.07 seconds. The nearest rival to the16-year-old 11th grader was Deriko Hinsey of CV Bethel in 18:05.11. His team-mate Samuel Moncur was third in 18:11.57.
"It was good. I started to relax, but I had to take it out because they were slowing me down," said Darling, who won the 3,000 last year in the intermediate boys division. "I feel good because I still have another year to try and break the record, which I was aiming for today."
Darling also contested the 1,500 but he was unable to mount a comeback strong enough to stop Claudius Russell of Doris Johnson from raining on his parade as a double champion. Russell out-sprinted Darling to win in 4:28.04. Darling had to setle for second in 4:29.53 with Hinsey taking third in 4:37.23.
"I tried to run it with more strategy than anything else," said Russell, a 17-year-old 12th grader. "I ran the outside lane so I won't get blocked in and after I established my lap. I just decided to go for it. I knew that Cimileo was coming for me, so I just had to keep something to go all out at the end."
In the intermediate boys 1,500, two competitors fought through the finish line thinking that they had won a battle, only to be told that they still had another lap to go. While Gilbert Bain was able to pick up the pace to eventually secure the win for RM Bailey in 4:52.03, the other faltered behind the rest of the field.
"I just tried to do my best after I saw him pushing it to the line," said Bain, a 15-year-old 11th grader. "I just decided to push it after we were told we had to go another lap."
Edwinette Sturrup, a 14-year-old 10th grader from CR Walker, pulled away from the pack with one lap to go in the under-17 girls 1,500 and she wasn't challenged as they won in 5:51.41 over CC Sweeting's Shannice Hall (6:02.09) and CV Bethel's Valarie Nesbitt (6:06.71).
"It was okay. When I started off, I tried to get ahead of them and I just opened it up," Sturrup said.
The senior girls 1,500 was won by Johnique David of CC Sweeting in 5:44.19. She had some competition from CR Walker's pair of Barinique McIntosh (5:45.25) and Ashley Wood (6:06.17).
"It was good, but I was tired," said David, a 16-year-old 12th grader. "I didn't expect the girls to start off so fast. I wasn't pleased with my time."
Anatol Rodgers' Michaela Bowe powered her way from behind to snatch the title in the intermediate girls 100m hurdles in 17.46 to out-duel Ashonique Miller of CR Walker (18.27). CI Gibson's Naquana Evans was third in 18.28.
"When I was running the race, I fell down at the finish line (in the preliminaries). When I went into the final, I made sure that I didn't fall again," said 15-year-old Bowe, who is in the 11th grade. "I had a lot of fun."
Vashti Mortimer, the 16-year-old 12th grader at CR Walker, led from start to finish as she took the senior girls 100 hurdles in 16.75, leaving CV Bethel's Iesha Lockhart a few paces behind in 17.30. Jaquel McPhee of Anatol Rodgers was third in 18.39.
"It was good. I got out of my blocks good. I got over the first hurdle good and I just pushed from there and came out on top," Mortimer said.
RM Bailey's Edwin Altidor won the intermediate boys 110 hurdles in 16.08, followed by CV Bethel's Keino Ferguson in 16.42 and RM Bailey's Shaquille Stubbs third in 17.50.
"It was okay. All I had to do was remember to get out hard, attack the hurdle and execute," said Altidor, a 16-year-old 11th grader. "I was pleased, but I could do better."
Shontoin Pratt of Doris Johnson surged to the front of the pack and captured the senior boys 110m hurdles in 15.79. He was trailed by Alfred McPhee of Government High in 15.92 with Doris Johnson's Eric Davis taking third in 16.28.
"I just listened to my coach and stretched over the hurdle and glided over them," said Pratt, a 16-year-old 12th grader.
In the intermediate girls 400m, Jeorgette Williams extended her stride and pulled away for an easy win in 1:03.88 over her CR Walker team-mate Hendira McPhee in 1:08.18. CC Sweeting's Shannice Hall was third in 1:08.80.
"I was just trying to run smart. I wasn't trying to run against my competitors. I was running against the clock," said Williams, a 15-year-old 11th grader. "I was pleased with my performance."
CR Walker got another victory in the intermediate boys quarter-mile with Bradley Dormeus taking the tape in 51.04 over his team-mate Kevin Mitchell, who ran 51.96. Jeffery Lully of Government High was third in 56.08.
"It was was quite hard. Me and my team-mate was fighting for it," said Dormeus, a 14-year-old 10th grader. "It was quite hard. I was just wanted to win."
Raygene Minus of CV Bethel was the winner of the senior girls one-lapper in 1:00.63. She got pushed to the line by CR Walker's Rhoneisha Johnson (1:00.83). Minus' team-mate Cheyenne Wilkinson was third in 1:02.56.
"The race was good. I tried to get out as fast as I could and build up my momentum going on the straight away," said the 18-year-old Minus, who is in grade 12. "I felt the wind picking up on the back stretch, so I had to try and pick up it up again on the home stretch."
Janeko Cartwright of Doris Johnson had to struggle through the windy condition to take the senior boys 400m race in 50.64. CI Gibson's duo of Julio Jemison and Kelson Pierre chased him in times of 50.97 and 51.06 respectively.
"My coach told me to jog through the first part and then on the back stretch go for it," said Cartwright, a 16-year-old 12th grader. "But it was tough out there."
In other events of the day, CV Bethel got a 1-2 punch in the intermediate girls 100 with Tiffany Johnson taking the tape in 12.83 and Danielle Fox second in 13.20. Anatol Rodgers' Moesha Stuart trailed the duo in 13.37.
"I was just glad that I won it. I put God first in everything," said Johnson, a 15-year-old 11th grader.
The intermediate boys 100m was a showdown between twin brothers Scharann and Shalom Cash. They finished in that order in 10.98 and 11.08 with CV Bethel's Vernon Verance taking third in 11.18.
"I just want to thank God for bringing me here and being successful," said Cash, who along with his brother is 15 and in grade 10. "Our coach told us to just get out of the blocks and once we do that, just push for the tape."
Government High got a rare victory with Jernique Brooks clocking 12.32 as she pulled away from CR Walker's Rhoneisha Johnson (12.49). CV Bethel's Maria Melville was third in 12.78.
"I did what I was supposed to do - get out," said Brooks, a 16-year-old 11th grader. "I just finished strong."
And in the senior boys century, Cliff Resias of CV Bethel led from start to finish to stop the clock in 10.68. Government High's Deedro Clarke was second in 10.86 and CR Walker's Perry Roberts got third in 10.99.
"It was good coming off a sprained ankle," said Resias, a 16-year-old 11th grader. "All I wanted to do was beat the time of 10.61, but I didn't. I just have to work on my start."
One of the biggest performances on the field came from CV Walker's LaQuan Nairn, who cleared 2.0 metres or 6-feet, 6 3/4-inches to easily win the senior boys high jump. RM Bailey's Sheldon Curtis was second with 1.80m (5-10 3/4) and Quincy Poitier of CI Gibson got third with 1.75m (5-8 3/4).