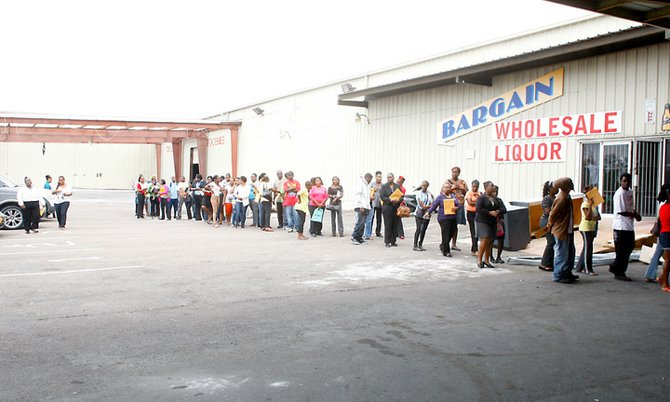 By DANA SMITH
Tribune Staff Reporter
dsmith@tribunemedia.net
MORE than 1,000 job-seekers lined up outside the former Robin Hood grocery store yesterday to apply for 300 jobs when the store re-opens.
Former Robin Hood head, Sandy Schaefer will be re-opening that store, in Tonique Williams-Darling Highway, and its counterpart in Prince Charles Drive under the name Shepherd's Mart.
The highway location will open in April and the Prince Charles Drive store by July.
Some of the hundreds of applicants stood in line for an hour waiting their turn to fill out an application and drop off documents they had brought with them, before the store closed its doors at 4pm.
Mr Schaefer was on site and said he was surprised by the amount of hopefuls who showed up, resumé in hand. The food store head said the sheer amount of applicants showed "there's a need out there."
He said: "I brought 500 applications with me in my car and I thought, 'ah, that'll be plenty' - and we ran out of those within less than an hour. I wouldn't be surprised if we're up to 1,500 by now."
Those 500 applications he brought represented the just under 300 jobs the chain will have available - not including ancillary services.
"At this store we're looking at about 135-140 full and part timers - which does not include the ancillary stores like the bank, US Gold, and some of the smaller shops that are here - you're looking at, probably collectively between those, around 50," he said.
"At our other location out east, you're looking at pretty similar to this, 135-140 plus another 50 or 60 of the (ancillary). Plus, we have the water plant there so you'll have another eight or 10 employees there."
Shepherd's Mart will select its employees out of the more than 1,000 applicants based on what Mr Schaefer calls the most important criteria.
"Honesty, hard-working, decency - those are the big criteria. Those are the most important criteria," he said. "I will teach somebody - I will train somebody that has their heart and mind in the right place. We'll make that investment in them."
Nineteen-year-old Jeffrey said he stood for probably an hour or so waiting to for his turn to apply.
"I've been out of work for two months now. I'm looking for something to do," he said. "I think every young person who's out of school now should try quick to find a job. Looking at the economy, it doesn't have as many jobs as it used too, a long time ago."
Michelle, also 19, is the mother of a young child who will turn two years old, this month.
"I heard that they were hiring so I came, bringing my documents, filled out the application form and I'm just waiting to see if they will call me," she said. "I have to take care of my baby and me."
Another mother of two young children said she hopes she finds a job at Shepherd's Mart so she can help will bills.
"I need a job. I have a three-month-baby and a two-year-old," she said. "(I need a job) very, very, very bad because my husband needs help. He's working but he's the only one in the house working, with all the bills."
Levio Braynen has been unemployed for four months and came prepared with the necessary items to submit a thorough job application.
"I brought my police record, my references, national insurance card, (and) passport picture," he said, adding that he would like a job in a Shepherd's Mart warehouse so he could take care of (his) family.
Another woman who wanted to remain anonymous, said she wanted a job so she could maintain her independence and arrived at the location first thing yesterday morning to beat the crowds.
"I came out early," she said, explaining she stood in line for "maybe an hour."
She added: "It's not long compared to the people who are waiting, considering that I'm done. I got here about 7.30am and I met 20 people ahead of me and hundreds behind me."
Job applications will be accepted through the weekend before 4pm, each day, says Mr Schaefer.