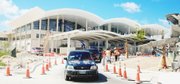 By NEIL HARTNELL
Tribune Business Editor
nhartnell@tribunemedia.net
Around 200 full-time jobs will be created when the final stage of Lynden Pindling International Airport's (LPIA) redevelopment is completed in November, Tribune Business was told yesterday, with tenders for the retail concessions already out to bid.
Vernice Walkine, the Nassau Airport Development Company's (NAD) chief executive and president, told Tribune Business that completion of the new international and domestic departures, plus domestic arrivals, terminal would take the total number of workers employed at LPIA to just under 3,000.
"Before Stage 3 we had estimated that 2,600 people were employed full-time at the airport," she said. "That'll be increased by another couple of hundred opportunities coming with Stage 3. It's not like Atlantis, with around 10,000 employees, or a Baha Mar, but it's pretty significant employer."
Ms Walkine told Tribune Business that among the retail concessions set to open when the terminal is completed are four retail kiosks, a duty-free liquor store, three food court restaurants, a convenience store, and sit-down bar and restaurant.
In the downstairs section, the NAD chief said the Wendy's restaurant and Royal Bank of Canada branch would re-open, along with a post office.
Bids on the retail concessions were already out to tender, Ms Walkine confirmed, with proposals from prospective tenants already coming in.
"The deadline for retail kiosks is April 7," she added. "Decisions will be made in the next six weeks. We'll have everything committed with leases going out. In the next six weeks, everything will be done in terms of concessions."
Elsewhere, Ms Walkine added that other Caribbean nations were looking to copy the financing model employed for the $409.5 million redevelopment project in their own infrastructure projects, since it had involved no government funds or guarantees.
She also disclosed that US Customs and Border Protection (CBP) had given NAD assurances there would be no repeat of last year's US pre--clearance "bottlenecks" during the peak summer travel period.
That resulted in painful last memories of a Bahamian vacation, and some passengers missing flights, together with increased costs for airlines through burnt-up fuel on departing flights that were delayed.
Ms Walkine said it was "inevitable" that LPIA's financial performance would improve from the days when it was run by the Airport Authority, as it needed to generate enough revenue to service the debt taken on to finance the $409.5 million redevelopment project.
"NAD brought to the airport a structure to facilitate revenue generation," Ms Walkine told Tribune Business.
"That structure on the revenue side is critical, because we need revenue to pay back the loan. It's a first for the airport, and it now has to generate the money needed to pay back the money borrowed for those new terminals."
Crediting her predecessor, Stewart Steeves, for playing the key role in structuriung NAD's financing, Ms Walkine added: "We did it on our own. The formula is unprecedented in the region, and that is why the template has been sought out as people in other parts of the region build new facilities without government financing it.
"It's a testimony to creativity and foresight. We're in a position now where we can prove we can sustain ourselves."
Ms Walkine said US CBP's plans to install an electronic call-up system in the departures hall within the next two months would ease passengers congestion, with NAD also putting its own people in there to provide better queue management.
"They've given us every assurance of working with us as much as they can to minimise the queues experienced last summer," the NAD chief said yesterday.
"There were particular difficulties in July and August, and they've given us assurances that the bottlenecks will not happen again. It was not pretty, but it's improved quite a bit since then, so we continue to work together to make sure as we get into the peak season it's better managed."