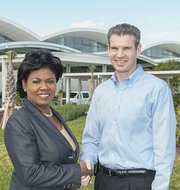 By NEIL HARTNELL
Tribune Business Editor
nhartnell@tribunemedia.net
The Nassau Airport Development Company's (NAD) decision to increase staff levels by 50 workers has paid dividends by driving the airport's customer satisfaction scores to their highest-ever level, its new chief executive said yesterday.
Vernice Walkine told Tribune Business that NAD's decision to bring pest control, cleaning and landscaping services in-house had resulted in "a tremendous improvement across every category" in Lynden Pindling International Airport's (LPIA) latest Air Service Quality (ASQ) rating.
Revealing that LPIA's last quarterly ASQ score had improved from 4 to 4.2, Ms Walkine, who is also NAD's president, said the airport was now "closer than we've ever been" to the maximum 5 .
Getting as close as possible to the maximum 5, she explained, was a key component in NAD's plans to position the Bahamas' main gateway as one of the Caribbean's top three airports by 2015.
Speaking after taking over the top post at NAD on March 1, Ms Walkine said her promotion had occurred at "the most opportune time", given that the LPIA operator/developer was transitioning from construction and financing to a focus on managing and marketing the key infrastructure asset.
Ms Walkine told Tribune Business that her main priorities were developing air service to LPIA, either through opening up new routes or increased flight frequency by current carriers, and enhancing passenger experience while they were at the airport.
"Airports throughout the world have evolved from places people walk through to get from one place to another; they have to spend time in them. The degree to which we can make that time productive for them and the airport, everyone wins," Ms Walkine told Tribune Business.
"The intention really is to move in a direction that gives visitors a great experience at this airport so that people rate it highly."
NAD's decision to take services such as cleaning, landscaping, pest control and internal plant maintenance in-house, while raising total employee numbers to 207, came after LPIA was "not rating as high as needed, despite our best efforts".
Explaining that this gave NAD direct control over these functions and their associated resources, and ensured more flexibility, Ms Walkine told Tribune Business: "We've seen the benefits.
"The last quarterly ASQ results bear out that we've made the right decision. We've seen a tremendous improvement across every category - cleanliness, efficiency, restaurants, the check-in area, food.......
"The survey had improvements across all the facilities. We went from an average of 4 to 4.2. We're clearly moving in the right direction."
She added: "The goal is to maintain that level of performance so that this airport is considered one of the top airports in the region in the next three years.
"We stated that as a goal a year ago, so we're talking about achieving that in 2015. That's the plan, and we're definitely on track.
"We're now monitoring to see how we can improve our scores to target. We need to get as close to 5 as we can. Certainly, within the region, we are as close to 5 as we've ever been. It's all good."
Ms Walkine, a former director-general of tourism, first joined NAD as vice-president of marketing and communications.
With her background in marketing and communications, and NAD/LPIA's stage of development, she said: "I think that the transition from Stewart [Steeves, her predecessor] to myself has occurred at the most opportune time, because we're close to wrapping up construction.
"After November we will have three completely new, brand new terminals, so the focus going forward is to improve the customer experience in these terminals. The focus is clearly shifting, evolving."
With Nassau needing 400,000 more airlift seats to meet the extra 2,200 rooms that Baha Mar will launch on to the market come December 2014, Ms Walkine said achieving this target would be a key focus for her.
She explained that NAD would target a gradual build-up in available airline seats over the next 18 months, rather than unleashing them all on to the market at once, via a combination of increased service from existing destinations and opening up new markets.
Ms Walkine said airlines who have met with NAD, plus the Ministry of Tourism and the hotel promotion boards, have "given us the assurance that Nassau continues to be a demand destination, and will work with us to grow capacity as the destination grows".
The NAD chief said one new route to New Providence, plus increased service frequency from existing markets, was likely to come on stream in the next six-nine months.
Disclosing that she met with 13 airlines from the US, Canada and Latin America at the recent Routes America conference, Ms Walkine reiterated to Tribune Business: "They're all very positive about the destination."
Explaining that the 400,000 seats would not be "dumped in the destination at once", she added: "It's a question of what makes most sense."
The Bahamas, Ms Walkine said, would look to grow both existing core markets, such as the north-east US, and new routes from destinations such as Moscow and Brazil.
On the other side, the NAD chief executive added that the company was working to make the LPIA passenger experience "as spectacular as possible".
Along with the hotel lounges, Ms Walkine said NAD planned to open a coffee shop in the arrivals hall later this summer.
"We have the widest sidewalks and curbs ever seen, and the intention is to help us do some special things," she told Tribune Business. "Special groups, we will have cocktails, music for them, to give them that kind of warm, unexpected experience.
"You don't see that often at airports; they are built with a lot of congestion."