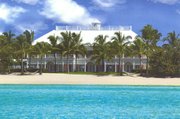 By NEIL HARTNELL
Tribune Business Editor
nhartnell@tribunemedia.net
Albany's developers yesterday said there was a "possibility" its high-end Marina Residences could be sold-out by summer 2013, telling Tribune Business this could trigger further expansion after achieving $400 million in real estate sales to-date.
Christopher Anand, the south-west New Providence development's managing partner, said 72 per cent of the units in the existing Marina Residences were "under contract", and 100 per cent sell-out would prompt the developers to consider building further high-end units around the Albany marina.
Disclosing that the project had generated another $100 million in construction contracts for custom homes, on top of the $400 million in land sales, Mr Anand said Albany expected to have 100 finished residences by year-end 2014.
Noting that the sales pace had begun to pick up, the $160 million generated last year being a "meaningful increase" over 2011, Mr Anand said US purchasers had returned to the market "big time" after an almost four-five year absence.
And, with Albany likely requiring a further 10 years before it was fully built out, Mr Anand said the project was likely to ultimately generate more than 1,000 direct jobs - a more than three-fold increase upon its current 300-strong workforce.
The apartments at Albany's Marina Residences range in price point from $4 million to $15 million, and Mr Anand said of the sales effort: "It's going great.
"Out of the 39 units, we've got 28 under contract. That's pretty fantastic, and we have a number of additional ones going to contract.
"There's a possibility, it's not inconceivable, that we could be sold out by summer."
A sell-out of the initial three Marina Residences buildings, on which construction began last September, would likely prompt Albany to "evaluate additional expansion plans", Mr Anand said. These would likely include similar real estate options being constructed around the marina.
"We broke ground [on the Marina Residences] because our pre-sales had met the target threshold," Mr Anand. "That was about $75 million in sales. We're now trying to get these last few closed, and it's rock and roll time."
Revealing to Tribune Business that Albany had closed more than $400 million in land sales to-date, Mr Anand said that number did not include what had been invested by purchasers in constructing their own homes.
"It's close to an additional $100 million in additional custom construction contracts that are either complete or under construction in addition to the $400 million, and there's more behind that," he said.
"We'll have 100 finished residences by the end of next year. We have 40 today, and 60 under construction, so by the end of 2014 we'll have 100 finished, which is pretty impressive."
Disclosing that Albany had attracted buyers from 16 countries, Mr Anand said: "What's been interesting is that the rate of sales has started to increase.
"Land sales were over $160 million in 2012, and it was a meaningful increase over the prior year.
"What's interesting is that the US buyer has started to come back into this market big time. They were pretty much non-existent for four years - from fall 2008 when the crisis hit to fall 2012, you could count the number of US buyers on one hand. There's been a market change."
Mr Anand attributed the level of decrease in US buyers to the severity of the recession, and added: "They literally stopped for four years. That's changed. That's very encouraging."
Between Albany's current 300-strong workforce, and the 500-800 construction personnel working on various projects, Mr Anand said the development was close to the 1,200 worker peak it achieved during its initial build-out.
Noting that most were Bahamian, Mr Anand said the Albany's lengthy build-out had helped ensure most of the persons working on the project were Bahamian.
"The benefits of this business model are that it is not built in 10 minutes; it is digestable for the local marketplace," he added. "What we're seeing is strong growth and the local marketplace can handle that."
Numerous Bahamian businesses and suppliers were also benefiting from Albany's presence, and Mr Anand said the eight year-old project would hit 350 residences when fully built-out.
"I'd say there's another 10 years of development," he said. "I think at full development, Albany could exceed 1,000 direct jobs easily. We're trying to do something pretty special."