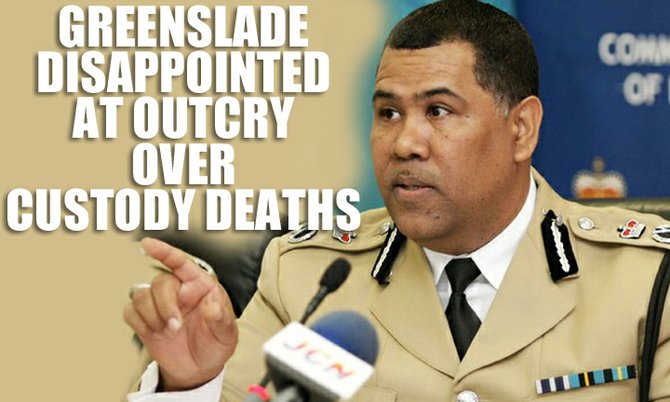 By DANA SMITH
Tribune Staff Reporter
dsmith@tribunemedia.net
POLICE Commissioner Ellison Greenslade said he was "very, very disappointed" with comments made by "some persons who should know better" regarding the deaths of two men while in police custody.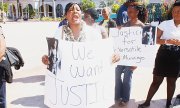 Amid public outcry over the incidents, Mr Greenslade stressed the deaths are under the investigation of Her Majesty's Coroner – not police, and called on the public to "allow the system to work."
"This commissioner," he said, "came to office with clean hands. I am going to leave with clean hands." He declared that nothing has been "fixed" or "interfered with."
The commissioner also admitted "a number of officers" have breached the law before and the Force has received "far too many complaints" of officers "misbehaving and destroying the trust" – but he underscored that those officers who "run afoul of the law" are dealt with.
"I've listened for quite some time now to what everyone had to say with respect to the in-custody deaths recently recorded here in the Bahamas and I must say that I'm very, very disappointed by comments made by some persons who should know better. That is not to be mean spirited, but a statement of fact," he said.
"When we received the very first call that something had happened at CDU and then subsequently a call that something had happened at the Southern Police Station, I directed as commissioner – I did not delegate – I directed as commissioner that all procedures will be followed to the letter of the law."
Her Majesty's Coroner immediately attended to each scene, Mr Greenslade said, and is directing the continuing investigation into the deaths.
"The police force is not in charge of the investigations; the police force has never been. Anything that you have heard to the contrary, I now refute," he said.
"Her Majesty's Coroner is in charge and has always been in charge of the investigations. Her Majesty's Coroner is able to direct police officers and to manage and supervise police officers as she deems appropriate. Her Majesty's Coroner also works from very independent offices."
Commissioner Greenslade noted that laws "are to be respected by all of us" - including the police. He allayed any fears that the investigation will not be thorough or transparent.
"Let me see how carefully I can say this to you, if you had heard of the incidents of the in-custody deaths, and the shooting in Abaco, and the police had offered a defence forthrightly and had pointed to aggression on the part of the persons involved or some other significant form of criminality – then maybe you would have reason to be concerned. That has not happened.
"I have ensured that nothing was touched, nothing was changed – listen to my words – nothing was altered. And I dare tell you there are police officers who might not want me to say that – serving and former – but I say it.
"My hands are clean and will remain clean. I am not going to allow anyone in this organization to change the facts, to change a crime scene. I'm not going to allow it, I'm not going to be a part of that. It has not happened and it will not happen."
He noted "a number of police officers" are serving time in prison and there are "quite a significant amount of cases" where officers who have "breached discipline" have been sent before the Tribunal and discharged from the Force.
"This is the one organization where members who run afoul of the law are dealt with, arrested, and where necessary – charged before the law, criminally. That has happened more times than I can remember," Mr Greenslade said.
"We know we're good people – the majority of us – (but) some of us are not good people. Let's put that on the record. Some of us are not good people; this is not a perfect country – it's not a perfect organization."
The commissioner acknowledged his "confidence in the system" and said he will allow the courts to work and at the end of the day – everyone "should be pleased."
He added: "I want to also say that I met with all of the families of the victims – the two in-custody deaths and the family from Abaco – and I listened to what they had to say very privately. I was not defensive, I answered all of the questions that I could, as best I could.
"I gave them my assurances as commissioner that nothing would be hidden from public scrutiny – nor from Her Majesty's Coroner. And I was more than pleased to sign the order to allow the demonstration that you just heard about, downtown."