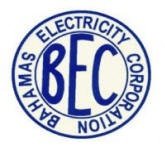 By CHESTER ROBARDS
Tribune Senior Reporter
crobards@tribunemedia.net
AS the Bahamas Electricity Corporation takes steps to correct its foundering financial position through measures that will greatly affect staff, one of the company's union executives is embroiled in conflict.
Stephano Greene, President of the Bahamas Electrical Workers Union (BEWU), told The Tribune yesterday that his executives and some members have petitioned to have their secretary-general suspended from union business.
And Mr Green suggested that those same executives might also be at odds with him for issuing a directive that the secretary-general followed, but that the other executives did not.
He said he asked his executives not to walk out of a meeting with BEC Chairman Leslie Miller. Only the secretary-general complied.
"Everybody walked out except the secretary-general," said Mr. Green. "I instructed them to stay, they felt she should have walked out."
The union's secretary-general was subsequently suspended by executives, but the suspension was overturned by an appeals committee, said Mr. Green.
Mr Green added that the union is now reviewing a new petition to have the secretary-general re-suspended. He said it could lead to a special call meeting of the BEWU.
Mr Green added that he had to leave the meeting with Mr Miller earlier and that his executives walked out of the meeting shortly after he left.
He said the meeting with Miller covered contentious issues, including changes at BEC that could see employees finally contributing to certain benefit funds the corporation traditionally paid into 100 per cent.
BEC employees are now required to contribute 25 per cent to the overall costs of their pension plan as well as 25 per cent of their medical insurance with an increase of 50 per cent in three years, Mr. Miller announced last week.
As it stands BEC contributes all of the money in the Pension plan at a cost of $16 million per annum.