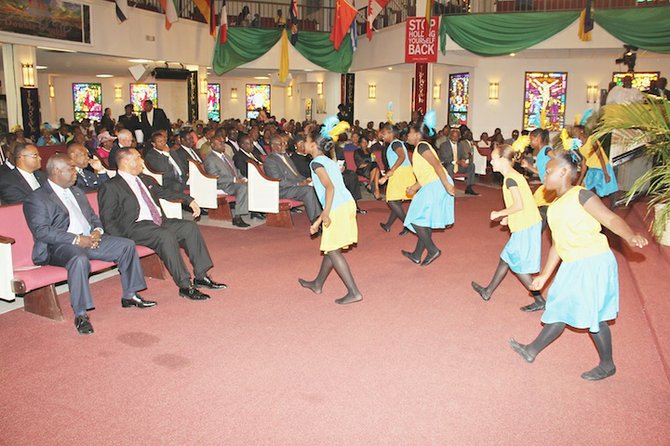 BY DENISE MAYCOCK
Tribune Freeport Reporter
dmaycock@tribunemedia.net
FREEPORT – Prime Minister Perry Christie was in Grand Bahama to attended a service of thanksgiving at the Jubilee Cathedral to officially launch of the 40th anniversary of independence celebrations.
During his address, Mr Christie said it is important that Bahamians put their political differences aside during such an historic time.
"We, still in our country, have to work hard at bridging our differences and being able to recognise when we should let go and come together in a national context," he said.
"We must understand the importance of nation building, and it does not take one political side or even two political sides, it takes the entire country.
"We must work hard at ensuring that we bridge the differences we have when it comes to events of this kind because it is just too important to the future of our country," he said.
Prime Minister Christie said there are many Bahamians who took the country to independence who are still alive. He said we must use this opportunity to acknowledge them and tell their stories.
"When you see people like Orville Turnquest and Maurice Moore, who are the symbolism of our political history, and the fact that I am PM of a PLP government ought not to stop me in any way from recognising these men," he said.
He said Maurice Moore was a young boy who demonstrated courage by responding to the call of the leaders of the time when people were being asked to march the length and breadth of the country.
"The great tragedy of our country is that we don't know its history and we don't speak much about it," Mr Christie said.
He said it is important that people know who the defining figures in the country were. He also noted that when Freeport came about and the nation focused on the inequities that existed there, heroes emerged to effect change in Grand Bahama.
"But who's writing about it? Who's talking about it? Where is the ethos of the island? Who are the guardians of it? How long can we continue to provide a disservice to the young people who do simply do not know?
"You must come to know why we lift up the name Pompey in the same way you know why we lift up the name Lynden Pindling.
"These were men, even with human imperfections . . . who have done wonders for this country and this is the time to lift up their story and their name so they can serve as an inspiration to others."
Mr Christie said that at the end of this term in office, he would have served 40 consecutive years in public life.
"The country requires a level of maturity where, despite our differences, we can get on with each other," he said.
He also told the people of Freeport and Grand Bahama that economically speaking, things are beginning to turnaround.
"My fellow Freeporters, this is a wonderful time and you must trust me when I say in this period going forward, God is going to grace GB with new opportunities. It has already started and you will see it as we move forward."