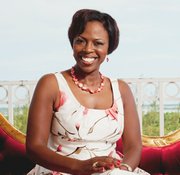 By Arthia Nixon
It's been a dynamite year for the woman who has won the heart of the nation with her alter ego Dynamite Daisy. Now, Lynn Terez Davis is basking in the joy of being the only Bahamian to win an award at the 2013 South Florida Gospel Music Awards (SFGMA).
"How amazing is it that her album hasn't been out for a year yet and she is the now Best Gospel Praise & Worship Artist 2013 winner at the South Florida Gospel Music Awards?" beamed KLR Management Group CEO Keith Rolle. "I am extremely proud of Terez and all the other Bahamians represented by KLR who were nominated in such tightly contested categories."
The KLR Management Group submitted several Bahamian gospel talents they represent to the SFGMA. Davis was nominated in the Best Gospel Praise & Worship Artist along with fellow countrymen Denero Williams and Demetrius Stubbs. She was also nominated for Best Female Gospel Artist and Best Gospel New Artist of the Year. Davis' song Beautiful was also Best Gospel Song of the Year 2013.
In the Best Male Gospel Artist category was Preston Wallace, Denero Williams and Demetrius Stubbs. Rolle himself was made this year's list of nominees as Best Gospel Radio/TV Announcer of the Year 2013 for his show Inspiration with Keith which airs on Island 102.9 FM.
Meanwhile, Lynn Terez Davis revealed that while the comedic character she created for the stage has not been accepting as many offers as she used to, she has been busy establishing herself as a recording artist with the release of her debut album. A mere six months after releasing "Beautiful", Davis found herself climbing the charts locally and securing her first win at a gospel music awards program, thanks to a distribution deal she signed with the KLR Management Group.
"From summer 2012 to winter 2013, I haven't had a minute to catch myself," she beamed. "I went from the studio to the album, then releasing that. Within a matter of days it seemed, I went from finishing my album to promoting it, getting engaged and then planning a tour and a wedding at the same time. So it's all just a blessing and a confirmation that the season is right to sing. People who attended the Dynamite Daisy plays would enjoy the singing I did at the end of it and kept asking when I was going to do an album. Now it is an honour to have done an album and to have it recognised."