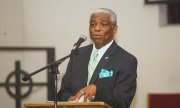 THE country's national security and law enforcement agencies can, and will, win the war on crime, says Minister of National Security, Dr Bernard Nottage.
Addressing a one-day seminar on the rights of the child this week, Dr Nottage said officials at the ministry, along with those responsible for overseeing the country's law enforcement agencies, were already seeing "positive outcomes" from various strategies.
Dr Nottage claimed this was especially apparent in the Urban Renewal areas where he said crime had gone down by 24 per cent over the same time frame in 2012.
"The other day, I said in the House of Assembly that crime in the Urban Renewal areas had decreased and people tried to have me for breakfast, lunch and dinner," Dr Nottage said.
"People do not like good news. I did not say nothing is happening, I said crime has decreased. It (Urban Renewal Programme) is having a positive effect. Let's strengthen the things that are having positive effects and support them instead of trying to break them down. That's all I ask for, give us a chance and we will get the job done."
Dr Nottage said the war on crime, while challenging, was not insurmountable.
"All of us know, I don't care how old we are, that ten years ago, things were not the way they are now and so somewhere along the way we are not doing the things we ought to have been doing or we are failing at what we are doing and so we have got to try some new things."
The National Security Minister said crime decreased in ten categories at the close of 2012 due to a number of initiatives implemented by the Royal Bahamas Police Force.
Many of the arrests, Dr Nottage said, were "intelligence-led".
"We have been seeing good results because of our intelligence-led initiatives," Dr Nottage said.
"Our officers are better trained and are deployed on a daily basis to seek out sources of information which allows us to target crime hot spots, prolific offenders and sundry criminal targets.
"The vast majority of arrests that are made are intelligence-led, resulting from the application of specific law enforcement skills and careful execution of strategy. Based on the sensitive nature of the operations, I am not able to say much more on this other than that our intelligence initiatives are making an impact," Dr Nottage added.
Dr Nottage said "significant progress" had been made within the Bahamas in areas such as murders, which he said were down by 13 per cent (127–111); reported rapes (107-97); attempted rapes (38-12); unlawful sexual intercourse (178-167); robberies (369-361) and attempted armed robberies (43-31).
He said decreases were also recorded in burglaries (340-309); house break-ins (3242-2875); stealing (1940-1909) and stealing from vehicles (2490-2284).
"While there is good work being done by the police with the support of the public, there are still far too many crimes being committed in New Providence by young, adult males," Dr Nottage said.