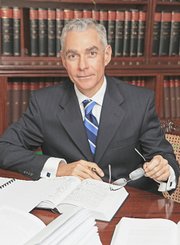 By NEIL HARTNELL
Tribune Business Editor
nhartnell@tribunemedia.net
The Bahamian economy will be impacted "across the board" if deficiencies in its aviation safety regime are not rapidly addressed, top industry executives warned yesterday, with airline expansion plans and a proposed Aircraft Registry having to be placed on hold.
Reacting to Tribune Business's exclusive revelation that the Bahamas had the worst aviation safety regime in the entire Americas' region, Captain Randy Butler, Sky Bahamas' chief executive and president, said this nation had effectively been "named and shamed" by global watchdogs.
He emphasised, though, that the Bahamian aviation industry was safe - the problem being not the industry's safety record, but rather the lack of an oversight regime to govern this.
And Llewellyn Boyer-Cartwright, the Callenders & Co attorney and partner, warned that if the Federal Aviation Administration (FAA) downgraded the Bahamas from a Category One to Category Two status following its upcoming May 13 inspection, the economic impact would be "immediate".
"We are under serious scrutiny by the FAA to meet International Civil Aviation Organisation (ICAO) standards, and there is a lot at stake," Mr Llewellyn Boyer-Cartwright warned.
"If the Bahamas is downgraded from a Category One to a Category Two because of unfavourable FAA findings, it will affect everyone across the board - airlines, hotels, restaurants, banking, taxi drivers, rental cars - every sector of the economy. When air travel is impeded or believed to be less secure, the impact is immediate."
Tribune Business reported yesterday how an ICAO 'Action Plan for the Bahamas', dated April 2012, effectively said this nation had done the least - in terms of implementing an aviation safety regime - in the entire Americas region.
"The audit revealed that the overall lack of effective implementation (LEI) of a safety oversight system was 62 per cent," the ICAO action plan said. "Therefore, the Bahamas is the state with the highest LEI in the Americas.
"High lack of effective implementations (LEIs) were reported in the areas of aerodromes and ground aids (AGA) at 98 per cent, air navigation services (ANS) at 77 per cent, and Organisation (ORG) at 57 per cent."
Captain Butler yesterday questioned whether the much-touted "political will" to effect the necessary improvements existed, given that there were numerous reforms that could have been implemented without requiring major investment.
ICAO had conducted two audits on the Bahamas, in 2009 and 2011, and was poised to come back for a third later this year. While governments had changed during that time, personnel in the Civil Aviation Department (CAD) had not.
"Political will has to be demonstrated by action, and we're still saying we're going to do it, we're going to do it," Captain Butler told Tribune Business.
"What is the evidence of it being done? Are we going to do a band aid approach for the FAA, or are we going to put in a proper organisation that is going to be sustainable and help build this industry?"
While the Civil Aviation (Amendment) Act 2012 was passed by Parliament in mid-December last year, it has yet to be Gazzetted to signal its coming into law.
Describing legislation, and its implementation, as "the highest level of political will that can be demonstrated by government", Captain Butler said reforms such as splitting off airport operations from Civil Aviation's regulatory functions could be accomplished relatively easily.
"The true demonstration of political will from the Government has to do with the things they control with the stroke of a pen, not what they need money for," Captain Butler said.
"These things have been drafted for as long as I know; from 2005, 2010. There's no real demonstration of political will as far as these things in government's control."
Giving examples that showed just how far the Bahamas had to go, Captain Butler said international standards required airport operators to have responsibility for security and all access passes.
Yet at Lynden Pindling International Airport (LPIA), these responsibilities lay with the Airport Authority rather than the Nassau Airport Development Company (NAD).
And, while there were penalties if airports failed to comply with safety regulations, the absence of an aerodrome licensing and certification programme meant it was impossible to withdraw licences.
Asked what might happen should the Bahamas receive an unfavourable FAA inspection, Captain Butler said the "fallout" could include the US State Department issuing an advisory - as it has done previously - warning that this country was non-compliant with ICAO standards.
"It will affect local carriers wanting to expand to the US, including Bahamasair, or wanting to change planes out and bring in newer types of aircraft," he explained. "It affects the tourism, the business, the whole aviation industry."
"The problem is international aviation where we are concerned. In the Bahamas, our growth is based on international aviation travel.
"If you are depending on local carriers, like Bahamasair and Sky, to expand, the only way for them to do that is to stay in Category One with the FAA."
The FAA rating, Captain Butler explained, was another yardstick by which companies determined whether to allow their airlines to fly to you.
Failure to maintain it meant airline and aviation companies may reconsider their presence in your jurisdiction, he added, while the Bahamas' plans to develop an aircraft registry "may be a challenge".
Still, Captain Butler expressed optimism that the Bahamas would receive a 'clean bill of health' from the FAA, basing this largely on assurances by Captain Patrick Rolle, the Civil Aviation Department head, that this nation was 75 per cent complete on an 'action plan' to address these issues.
Meanwhile, Mr Boyer-Cartwright said the Bahamas must "continue to pay close attention to international requirements or face the real risk of widespread economic impact that could affect the entire nation".
"Aviation is a highly dynamic and ever-evolving industry, and you cannot compartmentalise it or try to separate it from any other part of the economy,"he added.





"When it comes to aviation, there is no compromise. There are good people, like Captain Patrick Rolle, who are truly committed to what they are doing. But we are lagging behind. It is quite sad that after 40 years of Independence, we have come such a long way but we still have such a long way to go when it comes to aviation regulation and oversight.
"It is one of the reasons that I have been fighting so hard to establish an international registry. Once an international registry is in place, there can be no turning back because we will be forced to meet and continue to uphold ICAO standards. It will be better for all of the airlines, especially the national air carrier, Bahamasair, which now faces more danger in Family Island transport, especially, than any other airline simply because of the frequency of flights. Sometimes it takes a wake-up call like this to make all of us move - and move quickly and prudently."