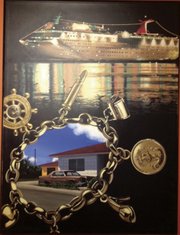 By ALESHA CADET
Tribune Features Reporter
acadet@tribunemedia.net
IN ITS final leg, the "Master Artists of The Bahamas" travelling exhibition successfully opened at the National Art Gallery of the Bahamas (NAGB) last Thursday.

The exhibition includes work by John Beadle, Jackson Burnside, Stan Burnside, John Cox, Amos Ferguson, Kendal Hanna, Brent Malone, Eddie Minnis, Antonius Roberts, Dave Smith and Max Taylor.
The show was initiated by the Waterloo Center for the Arts (WCA) in Iowa, and filmmaker Karen Arthur to help raise the profile of Bahamian art in the United States and expose Bahamian artists to new audiences.
Karen Arthur and Thomas Neuwirth are directors and producers of several films about Bahamian artists, including "Brent Malone: Father of Bahamian Art", "Amos Ferguson: Match Me if You Can" and "Jackson Burnside III: Native Son".
The artists featured in their "Artists of The Bahamas" documentary are also featured in the "Master Artists of the Bahamas" travelling exhibit.
Responding to criticism about the lack of female representation, Amanda Coulson, director of NAGB said: "Those were just the biggest names at the time that the filmmakers kept getting repeated to them, so they decided to put together those names and as a result the show came from that."
Ms Coulson said all eleven participating artists are no doubt master artists, but she did acknowledge there was debate when the show was first curated about the absence of female artists.
"We are very proud to have it here, but as a result we also curated another show on the ground floor called 'Single Sex', which features only female artists. So we did that in order to kind of balance the equation," said Ms Coulson.
"I think one of the issues is that back in the 60s and early 70s, they weren't very many female practitioners. People of the generation of Max Taylor and Stan Burnside, they don't remember Bahamian women at that time participating in art.
Ms Coulson said it really wasn't until the generation of John Cox, where a lot of women artists became known. She said the idea of the travelling show was that it needed to show the development of artists, which came from people like Amos Ferguson, Stan and Jackson Burnside, Max Taylor, Antonius Roberts and all of these names that art enthusiasts are familiar with."
Participating artist Stan Burnside said: "This show came out of the heart of one of our major collectors here, the founder of the D'aguilar Art Foundation, Vincent D'Aguilar. He spoke with Karen and all of the filmmakers because they wanted to do a show about a group of Bahamian artists and they had asked him to select. To the best of his ability, he chose a selection of artists whose works he was familiar with. As a collector, he was excellent and he really got to know your work."
"I think in those days there weren't any women working, and certainly Mr D'aguilar had a vast knowledge of the work being done. I think he watched the development over the years and these were the artists he knew over a 30 year span. However there are a lot of females who are worthy of salutation," said Mr Burnside.
For Max Taylor, he said it was a privilege to be part of the show.
"When you think of an artist like Kendal Hanna, we are sort of contemporaries and we came from the same generation. Then you have other artists like John Beadle and John Cox. I think with all of us going together, it was a great experience for every one of us individually," said Mr Taylor.
Dave Smith said when the show was put together some years ago he was familiar with all the artists. He described them as a dream team. It was an honour to represent the country and it was an honour to show with those artists," said Mr Smith.