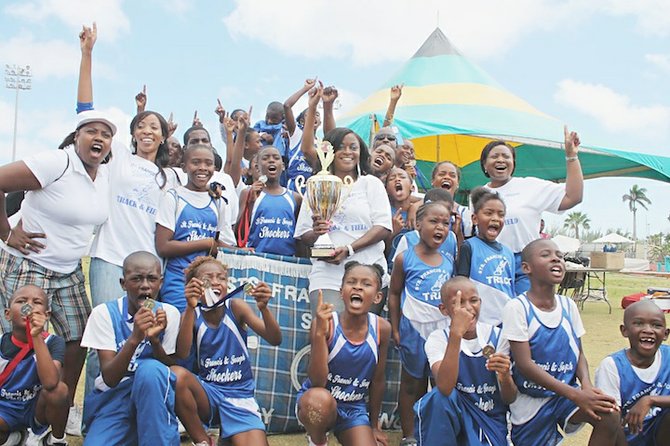 By BRENT STUBBS
Senior Sports Reporter
bstubbs@tribunemedia.net
AFTER a 29-year drought, St Francis/Joseph Shockers regained the Catholic Primary Schools Track and Field Championship title by snapping St Cecilia's Strikers' five-year reign at the original Thomas A Robinson Track and Field Stadium on Friday.
In the memorial two-day meet that saw Our Lady's Blue Flames and St Bede's Crushers compete for the final time, St Francis/Joseph pulled off a 48-point decision over St Cecilia's to win their first title since taking the initial two in 1982 and 1983.
"This one feels good. This one feels good. This one feels excellent," was how coach Devon Johnson summed up the thrill of victory. "I am tired of coming second in track. We've been coming so close and yet so far. Today, we came out on top.
"Hats off to my juniors. They ran well today. The juniors did an excellent job."
In fact, out of the 627 points that the Shockers generated, their junior boys and girls combined for 275 to secure first place. The primary division, however, accumulated the most with 352 for third place.
Now that they've gotten the monkey off their back, Johnson said the goal is to try to keep the streak going next year. He admitted that whether or not he will be there (as there are some transfers in the making by the Catholic Board of Education come September due to the closing of both Our Lady's and St Bede's), St Francis/Joseph will only be losing about six or seven seniors.
Jacinta Geoff, the principal of St Francis/Joseph, said this definitely calls for a celebration before they focus on going for another two-peat.
"We're definitely going to celebrate this with a motorcade," she said. "We're going to put things in place. The same thing we did this year, we will do next year and do it even better."
According to Johnson, the competition was extremely tough and he was surprised by the competition displayed by all of the schools.
St Cecilia's, who got 394 points for second in the primary division and 185 in the juniors for third place, had to settle for second overall with 579 as they relinquished their title.
"We couldn't hold off St Francis/Joseph. They wanted it. They were overdue. Last year, they came close. This year, they wanted it more," said St Cecilia's coach Leo Delaney. "After five years, it was hard to keep that going. We just have to go back to the drawing board and try to win it again next year. We will regroup."
Taking third place was Xavier's Giants with 557 points. The Giants, coached by Nelson 'Mandella' Joseph, won the primary division with 398 and was fourth in the juniors with 159. St Thomas More Sparks got fourth with 447 after finishing fifth in the primary with 253 and second in the juniors with 194.
Our Lady's, coached by Rohan Parks, got their final placing in the history books with fifth place with 405, taking fourth in the primary with 285 and sixth in the juniors with 119. St Bede's, coached by Ricardo Freemantle, recorded a sixth place in their final showing with 395. They got sixth in the primary with 251 and fifth in the juniors with 144.
The meet saw some outstanding performances, including Blaize Darling, who captured both the junior boys 100 and 400 metres and long jump.
St Francis/Joseph's Megan Moss dominated the junior girls with her victory in the 200 and 400 and she ran a brilliant anchor leg as they came from behind to beat out St Bede's for the title. She also took the high jump.
And St Francis/Joseph's Shaun Miller produced one of the best outstanding individual performances when he captured the high jump with a leap of 5-feet, 3-inches as he kept the fans in the stadium on their feet cheering for him.
"It was good, but I could have gone higher. But when I tried to go over the bar, my hand just hit it," said Miller, the younger brother of Shaunae Miller. "I was trying to go for at least 5-5, but I missed it."
Meet director Vanta Culmer said it was very competitive and it lived up to the advanced billing.
"There was a lot of excitement, a lot of records set. I was very proud of these athletes. I'm just glad that it's over," she said. "St Francis/Joseph won for the first time in a long time, so I know they will have a well-deserved celebration after dethroning the five-time champions from St Cecilia's."