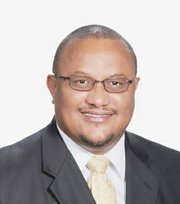 By NEIL HARTNELL
Tribune Business Editor
nhartnell@tribunemedia.net
The assertion by ex-National Insurance Board (NIB) chairman, Gregory Moss, that $5 million would be saved through hiring the administration vendor he wanted is not supported by any evidence, auditors have found.
The Grant Thornton report into allegations made by Gregory Moss against still-suspended NIB director, Algernon Cargill, could not determine how Advance Integrated Systems (AIS) had been able to quote a $6.5 million price for the already-awarded insurance administration system.
This had already been awarded to Vitech via a $13 million contract, yet Mr Moss had alleged this decision - and the failure to invite AIS to tender for the deal - "demonstrates the mismanagement of the resources of NIB by certain of its executive management staff".
The Grant Thornton report effectively shot down Mr Moss's claims on this particular issue, with the external auditors noting pointedly that the former chairman and his Board director sidekick, Patrick Davis, met with AIS executives without any of NIB's IT or management team being present.
Noting that AIS also failed to submit a final offer to back up its own $6.5 million estimate, the Grant Thornton team also found that the Jamaican company did "not appear to meet" the qualifying criteria for the insurance administration system contract.
AIS had touted its affiliation with a US-based company, Mastek, but the auditors said a report suggesting the latter could provide the services NIB needed had been paid for by the Jamaican firm, and might "not be independent".
Finally, the Grant Thornton team said the uncertainty over AIS's $6.5 million price and absence of a final offer, coupled with the likely costs associated with cancelling the Vitech contract and initial project management contract, might cost NIB money rather than save it.
The report produces more questions than answers over Mr Moss's activities surrounding the insurance administration system contract, and the claimed $5 million savings for NIB and its beneficiaries - the Bahamian people.
"In our interview with the IT staff, they indicated that none of them were involved in the meeting with AIS and, up to that point, AIS had not visited NIB to meet with any staff regarding the administration system," the Grant Thornton report said. "They were not sure what AIS used to determine the initial estimate.
"The chairman states that 'engagement of AIS, in conjunction with its affiliate, Mastek, has the potential to save NIB approximately $5 million'.
"Until a final offer was received from AIS and compared to the Vitech contract, and the cost NIB would incur for breaking the contract and the project management contract with LRWL, it cannot be determined at this point if AIS would save the NIB any money.
"Grant Thornton found that AIS had not made a final offer."
LRWL, or Virginia-based Leon R. Wechsler, had been hired by Dave Forbes and Kevin Knowles at NIB to manage the procurement process from start to finish.
Mr Moss had accused Raymond Wells, NIB's vice-president of IT, of "inexplicably" failing to invite AIS, which had provided the claims adjudication system for the National Prescription Drug Plan, to bid.
This, though, was again refuted by the Grant Thornton report, which said there was no evidence that Mr Wells "prevented LRWL from inviting any qualified vendor from submitting their bid".
A general invitation to bid was published on numerous websites for 30 days, and tender documents were sent to 13 companies which supplied the systems NIB was seeking.
Some four vendors - Oracle Caribbean, Sagitee, CPAS and Vitech - responded, and Grant Thornton reiterated that there was "no indication that AIS was prevented from responding".
CPAS and Vitech submitted bids on June 6, 2011, and in April 2012 the contract was awarded to the latter for $13 million.
Messrs Moss and Davis met with AIS's chairman and chief executive, James Halsell, in Nassau in August 2012. He mentioned the company's links to Mastek in a follow-up letter on September 12, 2012.
"AIS had to seek out a company in the US who specialised in this area to partner with to prepare a proposal," the Grant Thornton report said.
"Yet, based on our review of AIS's profile, they do not appear to meet the vendor qualifications detailed in the RFP.
"We found that no independent organisation assessed Mastek to determine if Majesco Mastek met the vendor qualifications. We did note a report by Manomay Consultancy Services (India) PVC Ltd, which indicated that Majesco Mastek could provide the required services of NIB.
"We noted further that this company was engaged by AIS to produce that report, which may not be an independent assessment of Majesco Mastek."
While AIS's chairman had promised his staff would come to the Bahamas to complete a formal review, then provide NIB with its best offer, such a visit never happened.
"We could not find the support to determine how AIS arrived at the $6.5 million initial offer to complete the project," the Grant Thornton report said.
"Furthermore, in the letter AIS gave the quote before even visiting NIB and speaking to IT personnel and management to gain a full understanding of the scope of work that needed to be done."
As a result, NIB staff did not know how AIS had arrived at $6.5 million as the offer price.