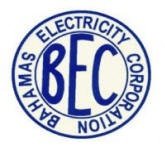 By KHRISNA VIRGIL
Tribune Staff Reporter
kvirgil@tribunemedia.net
DESPITE the government's attempts to pull in the reins on the Bahamas Electricity Corporation, a former Cabinet Minister wants the Christie administration to launch an independent inquiry into BEC's financial records.
Loftus Roker, who once served as Works Minister with responsibility for BEC, BTC and the Water and Sewage Corporation yesterday insisted that there could be "shocking" details to be uncovered once a probe got underway. However, he would not say specifically to what he referred.
If not, Mr Roker fears that BEC could be on the fast track to mimicking NIB which has been the topic of discussion for months over claims of alleged abuses of power and misuse of funds amongst other things.
He was speaking to reporters at a press conference at the House of Labour on Wulff Road where he also made it clear that he does not support privatising the Corporation to remedy any problems they might have.
Mr Roker said: "I would like to send a message to the Rt Honourable Perry Christie to say that there is something seriously wrong with BEC. He ought to appoint an independent group to find out what is wrong at BEC so that the Bahamian public, who after all owns BEC would know what's going on.
"He may be shocked to find out. 
"I believe things are happening at BEC. The problem is we just have NIB problems and I am saying that unless we change our habits we are going to be in trouble."
Last December, Leslie Miller-Chairman told The Tribune that BEC was on the brink of collapse as a result of paying a handful of employees millions in overtime. In total $2,393,152.99 was paid to just 10 employees. Many of BEC's challenges and excessive surcharges to consumers have also been blamed on fuel costs.  But Mr Roker said he doubts that the cost of fuel has anything to do with their financial position.
Part of the problem, Mr Roker believes, is the inability of civil servants and employees throughout the country to follow a good work ethic or practice discipline while on the job. 
"It seems today that in various government departments, ministries, and corporations that there is a lack of discipline and in some cases a lack of understanding of what the roles are supposed to be. 
"I say that this idea of taking responsibility and obeying rules seems to be lacking in our system.
"I am blaming the leaders for that," Mr Roker said.
Since taking office, the government, through Mr Miller has sought to cut back on expenditure at BEC. They have sought to trim overtime pay and have plans to require employees to contribute to their own retirement funds.