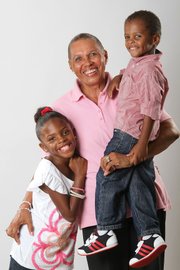 By ALESHA CADET
Tribune Features Reporter
acadet@tribunemedia.net
THERE ARE no cards, gifts or material merchandise that can fully express the love a child has for their mother, but Mother's Day provides an occasion to honour mother's in the best way possible. Several women share their experiences with Tribune Woman.
Her mom passed away some years ago, but for Andrea Sweeting, Sister Sister Breast Cancer Support Group president, the values she was taught as a child have been instilled in her very own children.
"What has given me the most joy as a mother is to know that my children can stand on their own. The fact that they have completed school and they are now on their own, achieving their goals, is a great feeling and it is very satisfying as a parent," said Ms Sweeting.
Ms Sweeting encouraged next generation mothers to love and nurture their children.
"Let them know they are cherished and that not everything out there is for them. Teach them that there are things out there that some people have, and they might not have," said Ms Sweeting.
Rowena Poitier, Bahamas Artists Movement (BAM) president and artistic director said she has been blessed to have two mothers.
"I am adopted. I was adopted by my aunt (Annette Poitier), but my biological mother (Marina Bethel) is still in my life. She taught me selflessness and she made sure she did whatever it took to make sure that I had the best," said Ms Poitier.
"As a child, my (adopted) mother taught me how to love fearlessly and unconditionally to everyone. She would encourage me to talk to people and know that everyone has a story. That was very valuable information for me and to this day it sticks with me; to know that everyone has a story and to help them on their journey."
She said they both mean everything to her. "They are both just strong, amazing women and I am lucky if I am half the woman they are," said Ms Poitier.
Bahamian author Betty Joe Cooper, said her mother Gloria Mae Smith was a single parent working two jobs. She said her mother did it all for her and her siblings. Being independent is one of the main things she said she has learned from her mother.
"She was a provider and a strong leader. She means the world to me and I cannot imagine not having my mother in my life. She's now a diabetic and recently she has lost a lot of weight, maybe because of dealing with the pressure of loosing my two bothers that passed away some years ago," said Ms Cooper.
Apart from her husband and daughter (Shanoon Miller), Ms Cooper said her mother is the most important person in her life. "At first it was tough for me becoming a mother myself, because I had my daughter at a young age. I didn't understand what parenting was about, but I now know that one of the most bravest things a woman can do is become a parent. It is a reason for her being here and she is a part of me. She is my only child and she is truly a blessing for me. We have some really good moments together and family is everything to me," said Ms Cooper.
Media consultant Inderia Saunders called her mother Brenda Saunders her support system.
"She is the person who grounds and uplifts me at the same time. She knows no other way to feel about me, but to love me. Just the other day I was thinking about what is unconditional love. I don't have any children, so I just thought about the love that my mother has for me and she doesn't love me because of who I am, she loves me because she knows no other way to feel towards me, and for that I thank her," said Ms Saunders.
Ms Saunders said her mother has been in her life and in her corner no matter what. The compassion and kindness she learned from her mother has taken her places all around the world, she said.
"She taught me values that will stay with me even when I'm a mother. In fact, I look forward to the time when I am 90 years old in a rocking chair, telling my grandchildren the old wives tales that kept me in line as a child. 'Don't point at graveyards or your finger will drop off,' which is simply saying respect the dead. Be nice, you never know where it can lead," said Ms Saunders.
Bahamian film producer Moya Thompson said even though her mother may kick up a fuss at times, in the end she knows for a fact that her mom is someone who she can turn to for anything, someone who consistently has her back.
"One of the things I credit my mother for is the way she simply took time with me from a very young age. Growing up, my mother would teach me and my brother bible scriptures, each week we had to learn a new one. She also made sure to pray with us regularly. My mom was a hard worker and so growing up, my brother and I had household chores and responsibilities from a young age. It was my job to dust and to sweep every Saturday. I was a sickly child growing up because I suffered from asthma, so my mother had to stay up many late nights with me and sit with me through numerous hospital visits when I would have attacks," said Ms Thompson.
Ms Thompson said her mother is the epitome of a strong woman and has taught her how to take care of herself and to be self sufficient.