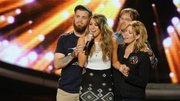 By LESH
Tribune Features Reporter
acadet@tribunemedia.net
IN A very surprising revelation during last week's results show, Angela Miller was eliminated from American Idol, leaving contestants Candice Glover and Kree Harrison to battle it out in the final.
After countless weeks of auditions, try outs and eliminations, the show is down to its final two. But who would have thought Angie would be the one finishing in third place.
Angie was one of the contestants that hardly made it in the bottom three of any elimination week after week, let alone receive the lowest votes to be sent home. Many Idol viewers are calling the elimination "insane and unexpected."
One viewer said: "I knew Candice would be in the finale, but you got it wrong America. It should have been Angie alongside Candice. I think she will have a stellar career, sometimes it is best not to win Idol, and then you have more liberty to make it big. Look at Chris Daughtry, Clay AIken, Jennifer Hudson, just to name a few. This gal is the real thing: songwriter and artist. Go Angie."
Another viewer said: "Angie should have still been there. Angie is a way better singer and has a lot of other musical talents that far outshines Kree. I know Angie will do well. I really admired her and her faith and love for God. I admired her not being afraid to share this with the world. It will be awesome when she gets a recording contract."
Not everyone was in agreement with the protesters. One viewer said: "She was not robbed. America voted and she received the least number of votes. Good luck to Candice and Kree."
After the show, in an interview, Angie said she really believed she would have advanced further in the competition.
"I'll be completely honest, I thought I was going to make it to the finale. It was shocking, but it's still fine. This is only the start," the singer told reporters.
As if Angie's elimination was not enough of a surprise, viewers also got word that Idol veteran judge Randy Jackson will not be returning to the show for another season.
" Yo! Yo! Yo! to put all of the speculation to the rest, after 12 years of judging on American Idol I have decided it is time to leave after this season. I am very proud of how we forever changed television and the music industry. It's been a life changing opportunity but I am looking forward to focusing on my company Dream Merchant 21 and other business ventures," said Randy Jackson.
The judge exclusively told E News that he is "done with the show."
Highlights from last week's show also included video clips of the top three's visits to their home towns, where they all received warm welcomes and participated in a homecoming concert.
Angie visited her home in Beverly, Massachusetts, Candice went to St Helena Island, South Carolina, and Kree headed to Woodville, Texas.
Award winning singer Alicia Keys performed her new song "Tears Always Win."
American Idol judge Mariah Carey also debuted her new music video for "Beautiful", featuring singer Miguel.
Tonight, the final two will take the stage for the last time to compete for America's votes. They will take on three songs each: a producer's choice, a favourite song from early on in the competition and their crowning song.
Tomorrow night, a winner will be chosen. Who will take the title?