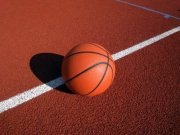 By BRENT STUBBS
Senior Sports Reporter
bstubbs@tribunemedia.net
WITH less than a month to go before they travel, the Bahamas Basketball Federation is still scrambling to put together the puzzle for the boys under-16 national team that will compete at the FIBA Tournament of Americas.
The championship is slated to take take place in Maldonado, Uruguay June 11-15. The Bahamas has been placed in Group A with Argentina, Mexico and the United States.
Group B will comprise of Puerto Rico, Uruguay, Canada and Chile.
The Bahamas qualified for the championship after finishing third at the Centrobasket Under-15 Championships that was played in El Salvador. Coming out of Group B with a 2-1 record, the Bahamas went on to pound Puerto Rico 78-55 in the third place game.
The top four teams from the championships will advance to the 2014 U17 FIBA World Championship June 26 to July 6.
Quinton 'Three Ounce' Hall, who will be returning as the head coach of this year'a team and assisted by Chavez Simmons, Stephen 'S' Brown and Neville 'Manny' Adderley, said he's excited about their chances going into the championships.
"We're a little sluggish right now before of the timing, but we will get there," said Hall, who was in town from Grand Bahama to conduct a series of practices. "I just hoping that the key guys from last year will step up as leaders and push us through."
Among the players who Hall and the coaching staff will be relying on are Shamar Burrows, Deajour Adderley, = Livingstone Bromwell and Sebastian Gray. Some of the other players who participated last year are not eligible this year, so Hall said they've had to make some adjustments, but even then they still find themselves in a difficult situation.
"This is not an easy time to prepare because the kids have exams and go to school, so it's a challenge on our hands," he said. "But we're making the best of it. We just have to sit down and figure out what is best for the kids because we will leave right after exams."
Although they were able to finalise the final 12 players over the weekend, Hall said they were not able to work with all of them because they were missing one player from Grand Bahama and three who were in the United States.
Federation first vice president Mario Bowleg, who will be travelling with the team as head of delegation, said they are scheduled to leave on June 9 and return on June 17.
The Bahamas will open play on June 11 against Argentina, followed by Mexico on June 12 and the United States on June 13. The playoffs for final positions will begin on June 14.
"This is going to be a very tough tournament. You won't see that much physical presence other than the United States, who are normally very big," Bowleg said. "We can compete at this level, the players just have to be focused.
"This is the highest level that we can play at, except junior world. So we want these players to step up and really play at the level that they are capable of playing. We've been at this for four years and we are still knocking on the door of the junior world."
With less than a month before they travel, Bowleg said they are looking forward to putting all of the pieces together so they can get a real look at what they have to work with in Uruguay.
"Our bigs are only about 6-foot, 4-5, but they can also play down at forward," Bowleg said. "We will really need the guards to step it up because they have to control the tempo of the game for us. We will have to rely on our speed to compensate for any lack of height that we may encounter because we know that teams like the United States are traditionally big."
The federation has decided not to release the full list of the team until they have all of the players on the floor.