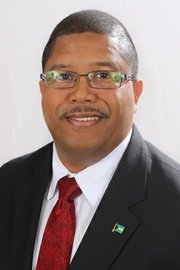 THE government is reportedly in talks with banks regarding the manner and the amount of money that is repatriated from the Bahamas, according to well-placed sources.
This comes amid House of Assembly debate over the Homeowners Protection Bill and its response from commercial bankers.
Debating the bill, East Grand Bahama MP Peter Turnquest had said yesterday the country should not infer that banks are somehow corrupt because it gives the wrong impression to the borrowing and financial community – both here and abroad.
Mr Turnquest explained that a government member had reportedly spoken of a potential "collusion" between banks and their friends involving property.
This alleged collusion involves banks reportedly causing a borrower to default and then selling the property at a lower value.
An argument broke out in the House of Assembly yesterday evening, with Prime Minister Perry Christie denying that such a statement was made by a member of the government.
"I don't think that's the message we want to send to the Bahamian community as well as international financial community that there is some kind of collusion going on in the banks to steal people's property," Mr Turnquest told The Tribune.
Opposition Leader Hubert Minnis had also told House members yesterday that he understands the Clearing Bank Association has made recommendations to the government on the Bill.
He said he knows discussions are continuing and "begged" them to consider the recommendations as he understands – "this bill is not supported by the clearing house."
"All I'm saying is that further discussion needs to take place," he said, adding that if it is uneconomical for banks to remain – "how many of these non-Bahamian banks will remain in the Bahamas?"