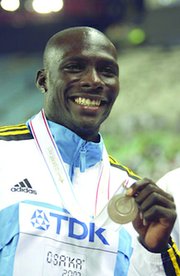 By BRENT STUBBS
Senior Sports Reporter
bstubbs@tribunemedia.net
SPRINTER Derrick Atkins, making a comeback after a series of injuries hampered his progress over the last two years, said he's even more inspired to go out and compete this year after being inducted into the National Association of Intercollegiate Athletics (NAIA) Hall of Fame.
On Wednesday, Atkins, along with long-time friend and quarter-miler Aaron Cleare, were among a list of 13 persons who were recognised for their significant contribution to their particular sports with the highest individual honour that could be bestowed on both athletes and coaches at the NAIA 2013 Convention in Kansas City.
"It's nice to be inducted. Usually people who are not competing are inducted, so I'm happy to know that I'm doing what I'm doing and still getting recognised for it," said Atkins in an interview with The Tribune on his way home to Atlanta, Georgia, following the ceremony.
"The only thing I had wished was that all of my team-mates would have been there, but due to circumstances, they were not all there. My whole performance was about the team and not my individual glory. The three national titles were for the team, so going back there was to be appreciated for something that was bigger than yourself."
Atkins, the 29-year-old Bahamian national 100 metre record holder (9.91 seconds), led Dickinson State to two consecutive national championships in 2004 and 2005 and to a runner-up finish in 200. During his four-year sting in North Dakota, Atkins has posted indoor and outdoor conference sprint records that are still standing.
The 2008 Olympian, who won the silver medal at the IAAF World Championships in Athletics in Osaka, Japan, in 2007 when he became the first Bahamian male to crack the 10-second barrier in the century, is an eight-time All-American in the sprints and relays.
The 30-year-old Cleare, unavailable for comments, participated in both indoor and outdoor track and field at Dickinson State University from 2002 to 2006. In 2002, he was a outdoor track and field national champion in the 400 metres and an All-American in the 4x100 metres and 4x400 metres.
In 2004, he was an outdoor track and field national champion in 400 metres and All-American in 4x100 and 4x400. In 2005, he was an indoor track and field All-American in the 4x400, an outdoor track and field national champion in 400 metres and All-American in 4x100 and 4x400.
In 2006, his 4x400 team was the national champion, and he set an NAIA national record.
Cleare was also an outdoor track and field national champion in the 400m and was an all-American in the 4x100. He has represented the Bahamas in the 2004 Olympic Games and was an alternate runner on the 4x400m relay team in the Olympic Games in 2008.
"It was special to have Aaron there because I pretty much knew him all my life," Atkins said. "We went to high school and college together and we even lived in the same city, so it was an honour to be inducted with him."
With the ceremony now over, Atkins said he wants to get back to concentrating on his upcoming season.
"It's all about being healthy right now," he said. "I just want to stay healthy and keep working at it. The last few years, I have been battling injuries over and over again and I never really got a chance to get over it. But this season, things have been going great, so I just want to keep building with each race. The end goal is the World Championships and the 100m final."
Atkins, self-trained in Atlanta, said he has some personal expectations, one of which he has already achieved. But as long as he can remain healthy, he feels he can go out there and represent the Bahamas to the best of his ability on the world scene, especially with the core of young sprinters following in his footsteps.
The true test to the level of competition on the local scene will come next month when the Bahamas Association of Athletic Associations takes its National Open Track and Field Championships to the Grand Bahama Sports Complex. The Nationals will also serve as the final trials for athletes wishing to make the team for the Worlds.
"I hope they bring their A game because I'm going to be bringing mine," Atkins said. "Hopefully everything will go well and we can get four solid guys together to make up the relay team. I was looking forward to running in the new stadium (Thomas A Robinson), but they're taking it to Grand Bahama. It doesn't matter. All I need is a 100 metres."
With the Bahamas already qualified for the men's 4 x 100m relay in Moscow in August, Atkins said he's excited about the possibility of having an extra event to compete in at the championships.
"Having a lot of youngsters there and being the nucleus of the crew is something that I am looking forward to," he said. "It would be good to get something started and have them finish it. So I'm looking forward to it this year."
Atkins, who has already competed in two races so far this year in Japan and Doha, is scheduled to be back in action in the century at a meet in Clearwater on June 1.
"The key is to build off the momentum and take each meet one at a time with the end goal of getting to the World Championship final," Atkins said.
In the meantime, he will take the time to bask in the glory of being an NAIA Hall of Fame inductee.