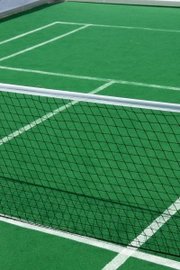 By BRENT STUBBS
Senior Sports Reporter
bstubbs@tribunemedia.net
Devin Mullings and Timothy Neilly, who both missed last year's trip because of injuries, have been named to Bahamas Lawn Tennis Association's four-member team that will carry the national flag at the Davis Cup American Zone III Davis Cup tie in La Paz, Bolivia.
The BLTA has reunited the same team, captained by John Farrington, with Marvin Rolle and Jamaal Adderley joining Mullings and Neilly, who all represented the Bahamas in 2011 at the Club de Tenis Santa Cruz, Santa Cruz, Bolivia when the Bahamas lost 2-1 to Honduras in the relegation match.
The Bahamas, however, stayed in Zone III as the Davis Cup organisers had abolished Zone IV.
Farrington will replace Dentry Mortimer, who carried the team of Rolle, Rodney Carey, Philip Major and Jody Turnquest to Tobago, Trinidad & Tobago last year where the Bahamas lost 2-0 to Haiti in their final match for promotion to Zone II.
The tie is set to be held June 17-22 and the Bahamas will be joined by Bermuda, Bolivia, Costa Rica, Cuba, Honduras, Jamaica, Panama, Paraguay, who will be split in two divisions to play in a round robin format. The top nation in each pool will play against the runner-up in the other pool. The two winning nations will be promoted to Americas Zone II for 2014.
The Bahamas goes into the tie ranked even with Costa Rica at No. 79.
"We had a week of practicing together a couple weeks ago at the Gym Tennis Club and I think that got us a chance to gel together again," Mullings said. "I think we have a very good team, but the key for us is going to be how well we can cope with playing in the high altitude. If we are going to be successful, we will definitely have to manage our game very well. It's going to be tough, but I think we have the team that is capable of playing very well. We know each other's game and we know what we are all capable of doing, so we just have to stay focused on achieving our goal."
Mullings, who leads the current crop of players with a 21-21 win-loss record (17-14 in singles and 4-7 in doubles since 2002), is returning after undergoing hip surgery in 2011 that denied him the chance to compete last year. The 27-year-old Grand Bahamian native last played in June 2011.
"I'm prepared to go there and do whatever it takes for us to win, whether it's playing as the number one, two or three player and whether I'm just in singles or if I have to play both singles and doubles," Mullings said. "I've been working really hard to get ready for the tie and I'm looking forward to going to Bolivia and performing at my best."
Neilly, another Grand Bahamian native, is also back after missing last year's trip because of an injury. The 25-year-old has played on the team since 2008. He has compiled a 3-5 record - 2-5 in singles and 1-0 in doubles.
Rolle, a 29-year-old native of Nassau, has played in the most Davis Cup ties on the team. Starting from 2001, Rolle has recorded a 25-24 record, going 14-14 in singles and 11-10 in doubles. Adderley, also from Grand Bahama, has only played since 2011 in just doubles with a 4-1 record.