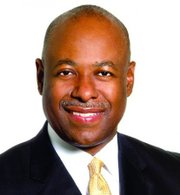 By KHRISNA VIRGIL
Tribune Staff Reporter
kvirgil@tribunemedia.net
THE government intends to approach St Maarten officials for information in an attempt to ascertain if the developer of Blackbeard's Cay qualifies to do business in the Bahamas.
According to Tourism Minister Obie Wilchcombe officials have been made aware of the controversial claims disseminated in several St Maarten press reports concerning Samir Andrawos – claims that he has denied.
The Minister assured the public that due diligence would be done in their investigations.
He was responding to questions regarding the government's intended course of action in view of allegations of a connection between Mr Andrawos and a bribery claim that it is alleged has reached the highest levels of government in that country.
Mr Andrawos has told The Tribune that the St Maarten press had got it wrong as he had "nothing to do" with the deal in question, having sold his interest more than a year ago.
"We are looking at what we've heard," Mr Wilchcombe said. "We don't have all the facts, but we want to see how it parallels with what we are doing here. We will certainly talk to officials in St Maarten.
"I will speak to my colleagues there to make sure that the person who is doing business in the Bahamas is someone we would want to have doing business in the Bahamas. Always remember due diligence is fundamental.
"But sometimes certain things happen and we don't know about it and it goes under the radar. Once we find out we have to respond, but right now there (has been) no action taken. We'll certainly be looking into it."
In April, the St Maarten News Network (SMN), in an article, claimed that certain pundits in the UP Party alleged that a high ranking government official received kick-backs to enable a move of a $100 million project, known as Justice Park.
It was also claimed by SMN, according to insiders, that negotiating with the government on behalf of Mr Andrawos were Prime Minister Sarah Wescot-Williams' son, Andy Wescot and son-in-law Gary Matser. That factor has led to calls for a conflict of interest investigation because Mrs Wescot-Williams voted in favour Justice Park twice, the report alleged.
However, on March 21, SMN quoted the Prime Minister as saying "she had no idea who the negotiators are." She also said she had no knowledge of kick-backs that were given to anyone.