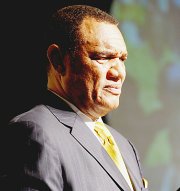 By NEIL HARTNELL
Tribune Business Editor
nhartnell@tribunemedia.net
The Christie administration is set to smash the $1 billion borrowing mark for its first two years in office, it was revealed yesterday, with the Bahamas likely to hit a 67 per cent total debt-to-GDP ratio by end-June 2014.
Unveiling the Government's 2013-2014 Budget plans in the House of Assembly yesterday, Prime Minister Perry Christie emphasised that the Government was "adhering" to its main fiscal goals - eliminating the recurrent account and GFS deficits by 2015-2016, and the primary deficit by 2014-2015.
And he pledged: "Government debt will return to a level in the area of 50 per cent of GDP by 2016-2017, as opposed to a level approaching 70 per cent in the absence of our decisive action plan to redress the public finances."
The 70 per cent debt-to-GDP ratio has long been identified as a 'danger threshold' for the Bahamas by the International Monetary Fund (IMF), representing a point at which it will be extremely difficult for the Government to meet its debt servicing costs and fund essential public services.
But the Bahamas' fiscal situation is likely to get worse before it gets better. Michael Halkitis, minister of state for finance, said the Government's planned $465 million borrowings for the 2013-2014 fiscal year were "down" from the $512 million forecast for this period, yet it still represents close to $1 billion in 'red ink'.
Add in almost $195 million in loans from the likes of the Inter-American Development Bank for capital projects, such as the New Providence Road Improvement Programme, and the Government will have collectively borrowed $1.172 billion since taking office in May 2012.
Mr Christie yesterday sought to blame all this on the "fiscal mismanagement" of the previous Ingraham administration, adding: "We must of necessity be more cost efficient in our operations and aggressively seek to enhance revenue performance.
"The legacy of high public deficits and spiralling debt burden that we inherited is brutally onerous: Almost one out of every four dollars in revenue collected by the Government must be allocated to pay the interest charges on the public debt and cover the debt repayment.
"Had we chosen to ignore the grave structural imbalance in the public finances, the debt would have continued to spin out of control."
Indeed, one of the few areas seeing increased expenditure in the 2013-2014 Budget is debt servicing (interest) costs, which will rise year-over-year by more than $22 million to hit $229 million. Together with $86 million in debt redemption, this represents more than $300 million.
The effect of all this is seen in the Bahamas' total debt-to-GDP ratio, which hit 61 per cent at year-end 2012. With $592 million in government guarantees added to $4.395 million in direct debt, the national debt at year-end was $4.987 billion.
And with a GFS deficit (a measurement that strips out debt principal repayment) projected at $443 million for the 2013-2014 fiscal year, the Government's direct debt-to-GDP ratio is forecast to rise further to $4.875 billion - or 56.4 per cent - at end-June 2014.
Throw in the $592 million in government contingent liabilities, and the Bahamas' total debt-to-GDP ratio will hit somewhere between 65-67 per cent by the mid-point next year, depending on which GDP measurement is used.
Private sector executives yesterday said the Government had little choice but to increase taxes, implement new ones and control spending given the fiscal hole it was in.
"The Government has no choice. It's running huge deficits," said Superwash president Dionisio D'Aguilar. "There'll be significant crying over the fact they're raising taxes, but the Government is running huge deficits and that's not sustainable."
Rick Lowe, operations manager at Nassau Motor Company (NMC), expressed concern that the cost of living was set to rise.
"Businesses that are marginal now are going to have to make some choices," he said. "You may see some lay people off. There are some interesting things that may result from this.
"It's unreal that they don't put the emphasis where it needs to be, and that's reducing spending. They think these international agencies feel good about what they're saying, but they don't understand that these people look at the reality, not the rhetoric."
However, the Government gave room for hope that it could navigate the Bahamas out of its fiscal crisis, as it projected that the GFS fiscal deficit for the 2012-2013 year would come in at 6.1 per cent of GDP - lower than the 6.5 per cent forecast.
It did this despite recurrent revenues coming in below projections, something the Prime Minister blamed on weaker-than-expected real Bahamian economic growth. This came in at 1.7 per cent, instead of the 2.5 per cent forecast by the International Monetary Fund (IMF).
Focusing on the 2012-2013 fiscal year, Mr Christie said revenue performance was "not as robust as had been expected at the time of the last Budget because of weaker than projected growth of nominal GDP.
"That weakness has persisted, and we now expect recurrent revenues this year to come in at $1.38 billion, down by 11 per cent or $170 million from the $1.55 billion Budget projection," he added.
As a result, the Government was forced into revenue adjustments to meet its GFS fiscal deficit target. It appears it has exceeded those goals, as the Prime Minister added: "We would have succeeded in containing recurrent expenditure in 2012-2013 to an estimated level of $1.659 billion, down by $162 million from last year's Budget projection.
"Capital expenditure should end up in the region of $350 million, down by $50 million from the Budget estimate.
"With these adjustments, the GFS deficit this fiscal year should approximate 6.1 per cent of GDP, slightly below the Budget forecast of 6.5 per cent."
Looking ahead to 2013-2014, Mr Christie said recurrent spending and capital spending, pegged at $1.737 billion and $295 million respectively, were being "contained" at levels just below those forecast in the Mid-Year Budget.
With revenues pegged at $1.503 billion, the Prime Minister said the recurrent deficit was set to come in at $443 million or 5.1 per cent of GDP, as opposed to 6.1 per cent for this year.
Describing the Government's fiscal plans as "aggressive", Mr Christie said: "We quite simply have no alternative course of action if Government is to have access to the resources needed to implement the vital programme of change that it pledged to deliver.
"We have been aggressive in pursuing additional revenues and reining in expenditures, and that is reflected in the better-than-forecast performance in respect of the GFS deficit this fiscal year."