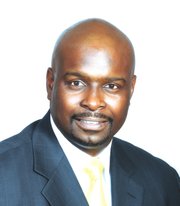 LARGE bins will be placed around New Providence in the wake of this week's flooding for residents to dump damaged items or large items such as furniture, mattresses and drywall.
Housing Minister Kenred Dorsett said the Department of Environmental Health Services (DEHS) will be placing large trash bins in strategic areas around the island to augment the regular collection of garbage.

"This is being done in response to the flooding which occurred within some areas of New Providence last week due to torrential rainfall," he said.
Persons affected by flooding or generally who may need to dispose of damaged items or large items such as furniture, mattresses, drywall etc. should deposit them in one the bins provided.

DEHS will be monitoring the bins to ensure timely collection. The bins will be available for use from May 31 until June 6.
The DEHS is also reminding people that the weather is conducive for the breeding of mosquitoes.

"While vector control is ongoing and will continue whenever weather permits, residents should use mosquito repellents and ensure wherever possible that they do not keep standing water uncovered around their homes," said the department.

• The weather forecast for the rest of today and tonight is cloudy to overcast and very windy with widespread rain and thunderstorms, some of which could be heavy at times.
Winds: East to southeast at 20-25 knots increasing to 20-30 knots (near gale force) by this afternoon. The weather front which has affected the country for the week is expected to move out of the area by Friday night bringing clearing skies.
Friday daytime is expected to be partly cloudy and windy with widely scattered showers and isolated thunderstorms during the day and into the night.
Saturday is expected to see variable cloudiness with a few scattered showers and isolated thunderstorms, turning fair and mild at night.