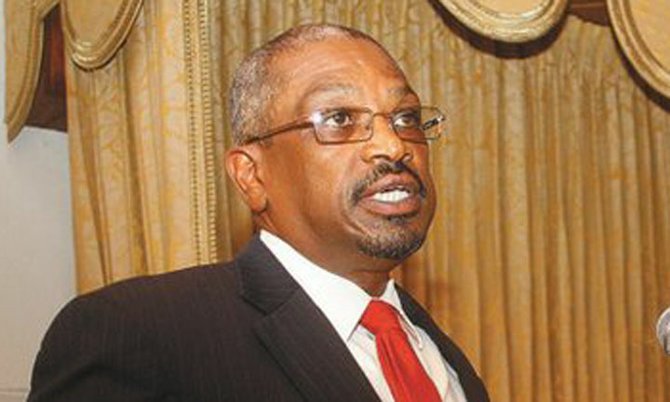 By AVA TURNQUEST
Tribune Staff Reporter
aturnquest@tribunemedia.net
OPPOSITION Leader Hubert Minnis yesterday blasted the government over its failure to address substantial concerns raised by the private sector and homeowners over the implementation of the new Value-Added Tax system.
Dr Minnis charged that the Christie administration was "afraid" to educated the country on the new system, and renewed calls for the government to delay the proposed July 1 implementation.
He added that the bungling of such a critical economic shift will mark the destruction of Prime Minister Perry Christie's legacy.
Drawing comparisons to the implementation of VAT in Barbados, Dr Minnis noted that the country – which boasts first world status – engaged in an extensive public education campaign about VAT before and after an official white paper was released.
Dr Minnis said: "The public education has not been done, he has made the mistake before with the referendum where the public education was not done. He came back again with the second referendum that was planned, no education done so that had to be put off."
He added: "Today there are various methods of educating the public through social media, YouTube, etc. All must be utilized."
"This will go down as Perry Christie's legacy, if he wants to destroy his legacy that's fine but don't destroy the Bahamian people. He should go down by himself."
At a meeting on VAT with a group of businessmen last week, a leading tour operator revealed that it has lost three winter 2014 convention bookings, each 500-plus strong, due to the price increases caused by the impending 15 per cent VAT.
Fred Albury, the Bahamas Motor Dealers Association's (BMDA) president, told Tribune Business of concerns that the Government's tax reform centrepiece was going to "shrink", not encourage, economic growth.
Super Value president Rupert Roberts told Tribune Business earlier this week that the $1 million expansion of its main Carmichael Road warehouse has been put "on hold" due to the continuing uncertainty over Value-Added Tax (VAT).
He described the Government's key tax reform as "terrifying", adding that the Christie administration should instead introduce a "straight sales tax" if it needed more revenue.
Yesterday, Dr Minnis called on the government to prove that it will be able to refund the business sector in an expeditious time. He added that refunds for the private sector was a major challenge in Barbados.
Dr Minnis said: "Why are they afraid to educate the Bahamian people? They were afraid to educate us in terms of the referendum, they were afraid in terms of the second referendum, now they are afraid to educate us again. We are now a nation looking for knowledge, we want interaction, gone are the days you can keep people in ignorance. We are dealing with a new generation that is knowledgeable and intelligent, and they want to know the pros and cons,
"They're not saying that they're against it. What are the advantages and disadvantages?" they want to know.