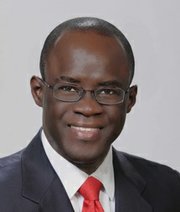 By RASHAD ROLLE
Tribune Staff Reporter
rrolle@tribunemedia.net
THE Christie government has "served" and allegedly accepted money from controversial billionaire fashion designer Peter Nygard, FNM chairman Darron Cash claimed yesterday.
His comments came after Mr Nygard said in a recent YouTube video that he "initiated and helped to write the stem cell legislation" which is now law.
Mr Cash said: "Peter Nygard has taught the Christie government a valuable lesson. When the 'John' has finished paying for 'services' rendered, he feels as if he owns you!"
"It is clear for all to see," he added, "that the Prime Minister has gone out of his way to serve the needs and interests of this self-proclaimed paymaster. And now that Nygard has paid for political services rendered, he feels he can say or do anything he feels like in our country. Thank you for that Prime Minister Christie!"
Calling comments Mr Nygard made about the FNM on the Ortland Bodie show this week "offensive," Mr Cash said Mr Nygard feels free to say what he wants because he has "paid well for the untouchable status he now enjoys."
"Peter Nygard is today talking like a man who knows he owns a lot of people in the Christie Administration," he said.
Mr Cash added that the FNM is not surprised by Mr Nygard's comments about the recently passed stem cell research Bill because the party warned Bahamians that the law could be "described as 'Nygard's Law' because it was done for him."
It does not help the country's image if it seems like the government is so desperate for foreign investment that it will "bow to the whim and fancy of one man," he said, adding: "Nygard's most recent slick video is simply further evidence of his closeness to the Christie Administration. As an international fashion designer Peter Nygard understands very well the significance of image and branding. It clearly works to the advantage of his personal brand that he is able to broadcast around the globe that he was single-handedly responsible for peddling his ideas to countries around the globe, drafting legislation and then convincing the government of the Bahamas – led by Perry Christie – to "adopt" that legislation. That may be good for Mr. Nygard, but it is not good for The Bahamas."