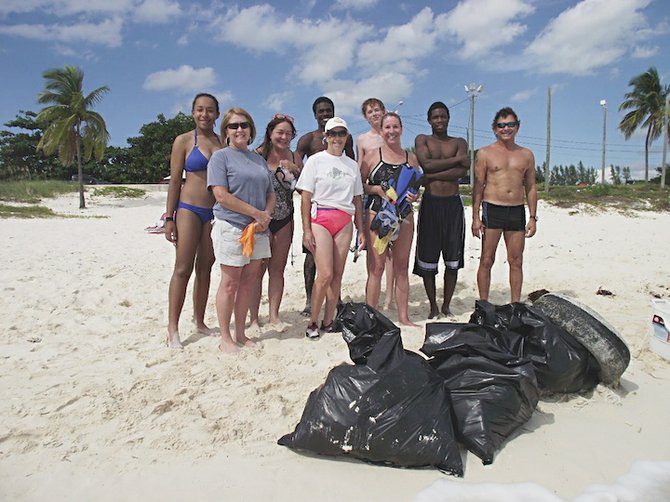 RYAN Carroll did it again. His second underwater cleanup was held at Taino Beach on October 27.
Once again the objective was to rid the sea floor of trash/marine debris. Trash bags and water were provided. Participants brought gloves and snorkel gear. A kayak was used to help to collect trash from the divers.
Volunteers snorkelled to the bottom to remove trash and it was bagged onshore. Everyone was welcome.
"I didn't know diving up trash to be so fun. I had a good time doing it and so did everyone else who helped. Save for the water getting cold, we would have another one soon. We'll wait till the water warms up again and continue 'trash diving' at another location, probably all along Lucaya Beach," said Ryan Carroll.
Jackie Carrol, Ryan's wife, said: "Ryan was in the water one day and saw all the rubbish and thought it would be a good idea to clean it up. Most people don't see what's underneath the surface, so it goes ignored, but it has made me wonder how much more garbage there is out there on the ocean floor. It's very sad how people toss overboard thinking, out of sight out of mind."
Volunteers who helped with this underwater cleanup effort included Jackie Carroll, Ryan Carroll, Kathy Brown Brackett, Jack Nash , Candice Woon, Gail Woon, Andre Sturrup, Deltin Sejour, Maxwell Gauthier, Bob Tarzwell, Mary Tarzwell and Katybel Burns Taylor .
Maxwell Gauthier said, "I was shocked by all the bottles and golf balls on the ocean floor."
"The city does pick up the trash on land but all of this was at the bottom of the ocean which we dove up," Kathy Brown Brackett said. "It was a beautiful day, spent diving up trash from the ocean floor. All of this including another tire was underwater. We have to stop treating our ocean like a trash can."
"I was glad to come out again to clean up a small portion of our environment. I was honestly surprised to see how much garbage was hiding under the water just a few feet out in the water," said Andre Sturrup, Youth Ambassador for EARTHCARE/Save the Bays.
Candice Woon said: "I feel glad to clean the ocean bottom which is usually untouched because you really don't look down there."
"Its Amazing to see how much garbage is at our feet each and every time we go for a swim . . . amazing how we never get cut considering all the broken glass," said Deltin Sejour.