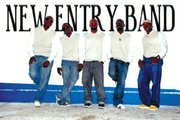 aBy FARAH

Tribune Features Writer
jgibson@tribunemedia.net
THE NEW Entry Band is taking a second shot at being crowned Best Band in the Bahamas. The group along with five other bands will come together on one night, at one venue, for a showdown of original live music during the Global Battle of the Bands Bahamas competition.
During last year's inaugural event, New Entry was a fan favourites during the competition. They hope to bring the same energy, excitement and fun to the stage like last year.
New Entry will compete against Plati, The Truth, Avante Guarden Kontact and Johnnie Christie and the Boats during the showdown on November 30 at the Botanical Gardens.
"We decided to enter the competition again this time because it was a great experience before. We want the exposure again and we want to try our shot at winning. Actually we now know we have to promote ourselves more so that we can build a fan base because we now know that fan votes will take us to the next level. So this year, we did more promotion than last year. People can expect lots of energy and excitement," said Wilner Pierre, leader of the band.
"Last year we met the other bands and got to communicate with them and learn from them. This year we hope to do the same thing as this is a learning experience," he said.
New Entry which hails from Abaco was formed in 2006, and has evolved since then. All of the members were involved in the music ministry at their local churches, and decided to start a band.
They play a variety of genres including Reggae, Soca, Rake n Scrape, R&B, Pop and Kompa.
"The fact that we can play all genres of music and are now incorporating those sounds into our original music is what makes us special," Pierre said.
New Entry currently has a single "Excited", on rotation on 100 Jamz, and Radio Abaco and is being played in the clubs in Abaco. The music video for Excited will also be released in the upcoming weeks.
The song will also be featured on Bahamian artist Kirkland "KB" Bodie's latest "KB & Friends: Vol. 4" album. While in Nassau the band has been promoting themselves and their music which predominantly combines pop music with a cross section of musical genres performed.
The band has also connected with Fidelity Bank, and will be putting together commercials and a few jingles in Creole and English using the "Party Time" track for the Creole version, and the Excited track for the English one.
They have performed in places such as Green Turtle Cay, Grabbers in Guana Cay, Snappas Grill & Chill, Moore's Island and Grand Cay, and in Hope Town at Seaspray Resort, Harbour's Edge, Hope Town Harbour Lodge, Abaco Inn, Cap'n Jacks and at the posh y Baker's Bay Golf and Ocean Club and The Abaco Club on Winding Bay.
The band members include Wilner Pierre (lead singer), Anderson Alcime (lead singer, percussionist), Francious Innocent (bass guitarist), Joanel Petit-dot (keyboardist) Herod Innocent (lead guitarist), Roland Newton (drummer).