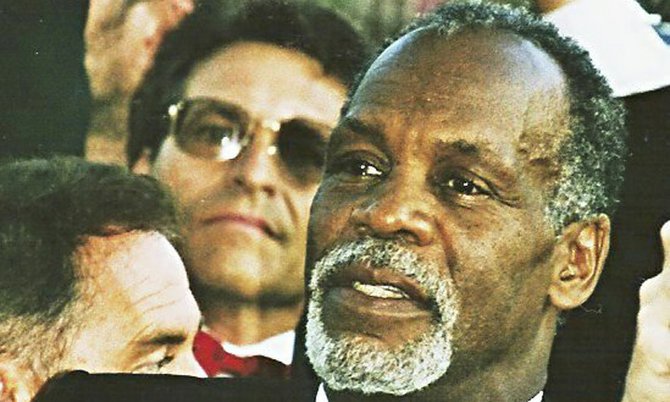 HOLLYWOOD star Danny Glover is to receive this year's Bahamas International Film Festival Career Achievement Award.
The star of the blockbuster "Lethal Weapon" series will be present for the tribute and presentation at the Atlantis theatre on Friday, December 6.
Leslie Vanderpool, BIFF Founder and Executive Director, said yesterday: "Danny Glover is an extraordinary man whose accomplishments in Hollywood are equalled by his humanitarian achievements.
"We're honoured to recognise his amazing career at the Bahamas International Film Festival (BIFF)."
Actor, producer and humanitarian Danny Glover, 67, has been a commanding presence on screen, stage and television for more than 25 years.
As an actor, his film credits range from Hollywood hits like "Dreamgirls" and "2012" to smaller independent features, some of which Glover also produced.

In addition to his film work, Glover is highly sought after as a public speaker, delivering inspiring addresses and moving performances in college campuses, union rallies and business conventions.
Glover has gained respect for his wide-reaching community activism and philanthropic efforts, with a particular emphasis on advocacy for economic justice and access to health care and education programmes in the United States and Africa.
For these efforts Glover received a 2006 DGA Honour and was honoured with a 2011 "Pioneer Award" from the National Civil Rights Museum.
Internationally Glover has served as a Goodwill Ambassador for the United Nations Development Programme from 1998-2004, focusing on issues of poverty, disease and economic development in Africa, Latin America and the Caribbean. Currently Glover serves as UNICEF Ambassador.
In 2005 Glover co-founded New York based Louverture Films with writer/producer Joslyn Barnes.
The company is dedicated to the development and production of films of historical relevance, social purpose, commercial value and artistic integrity.

Among the films Glover has executively produced at Louverture are "Bamako", "Trouble The Water," "The Black Power Mixtape 1967-1975," and "The House I Live In."
He was also associate producer on Elia Suleiman's "The Time That Remains," and the 2010 Cannes Palme d'Or winner "Uncle Boonmee Who Can Recall His Past Lives."
A native of San Francisco, Glover trained at the Black Actors' Workshop of the American Conservatory Theatre.
It was his Broadway debut in Fugard's "Master Harold…and the Boys" that brought him to national recognition and led director Robert Benton to cast him in his first leading role in 1984's Academy Award-nominated, "Places in the Heart."
The following year Glover starred in two more Best Picture nominated films: "Witness" and Steven Spielberg's "The Colour Purple."

In 1987 Glover partnered with Mel Gibson in the first "Lethal Weapon" film and went on to star in three hugely successful Lethal Weapon sequels.
BIFF 2013 starts on Thursday, December 5 and will run through Sunday, December 13. For the second consecutive year, BIFF will be coming to Harbour Island (December 9-11) and Governor's Harbour (December 11-13), showcasing a diverse presentation of films from around the world accompanied by a group of local and international filmmakers.