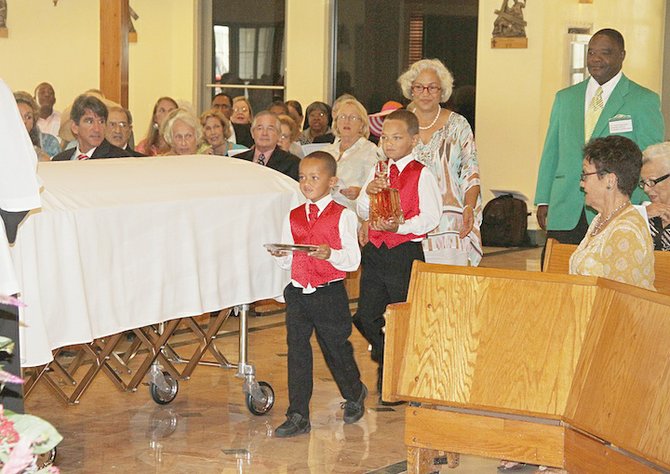 DOROTHEA Jeromita Dupuch, 97, was laid to rest next to her husband in St Anne's Cemetery yesterday following a service at St Anselm's Catholic Church, Fox Hill.
The widow of the Hon Eugene Dupuch, QC, died at Doctor's Hospital last Saturday, a little more than a month after her 97th birthday.
The funeral was attended by relatives, close friends and a number of dignitaries, including Governor General Sir Arthur Foulkes and Lady Foulkes, former prime minister Hubert Ingraham, Deputy Prime Minister Philip Davis, Attorney General Allyson Maynard Gibson, Opposition Leader Dr Hubert Minnis, former deputy prime minister Brent Symonette, Deputy Opposition Leader Loretta Butler Turner, Sir William Allen, a former finance minister, and Mr Frank Watson, a former deputy prime minister.
For many years, Mrs Dupuch was well known throughout Bahamian society for her numerous charitable undertakings and concern for social issues.
She was a passionate gardener and served as president of the International Garden Club in 1975 and 1984. She had many plaques, medals, silver trophies and Blue Ribbons for her horticultural works of art.
"Dorothea was a powerhouse when it came to family, friends and community. Nothing was ever too much for her to embrace and accomplish effortlessly. Her herculean efforts in all things were templates for all to emulate," said her obituary, written by Jacquelyn D'Aguilar and Cecile Shephard.
Monsignor Preston Moss, whom she had known from the time he was 14 years old, officiated at the mass and delivered the homily, while her nephew, Mr Pierre Dupuch, paid tribute to her before the start of the funeral mass.
Mrs Dupuch is survived by her son, Peter, a daughter-in-law, Helen, three grandchildren. Alexander, Benjamin and Emily and many nieces and nephews.