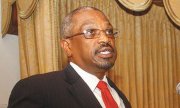 A QUESTIONNAIRE on the thoughts of Bahamians on Value Added Tax (VAT) continues to show that a large number of Killarney constituents do not agree with the government's move to implement the plan.
The survey, which was first launched on the Internet by the FNM less than a week ago, has yielded 759 responses. There are 4,598 residents in the area.
While the completed questions continue to pour in, the results show that 80 per cent of them think that the government should not introduce VAT on July 1, 2014.
Based on the statistics, many Bahamians do not believe they have enough information on the new taxation system.
When asked what was the preferred form of taxation, 30 per cent believe that sales tax is ideal for the economy. Twenty-five per cent wanted income tax while around the same number said there should not be any taxes at all.
As for the $500 million in uncollected taxes, almost 60 per cent of those surveyed want the Christie administration to aggressively pursue the funds.
The FNM has plans to take their efforts nationwide.
Party leader Dr Hubert Minnis urged the government to seriously consider the Bahamians who are now struggling to make ends meet. He believes that VAT will only make their economic situations worse.
"The government needs to know that the decisions you make today are not just for themselves, but for future generations," Dr Minnis said. "Anyone that is in Parliament should feel that way.
"It should not be where the poor are paying all the bills and those who can afford it are evading tax and made not to pay bills. It cannot be business as usual.
"The government and many of its parliamentarians don't understand what is happening around them. Can you imagine, families who are living in homes with no food to eat, sleeping on concrete and are just terribly poor out there? They keep pushing this thing, but they are not considering what will happen to people out there."