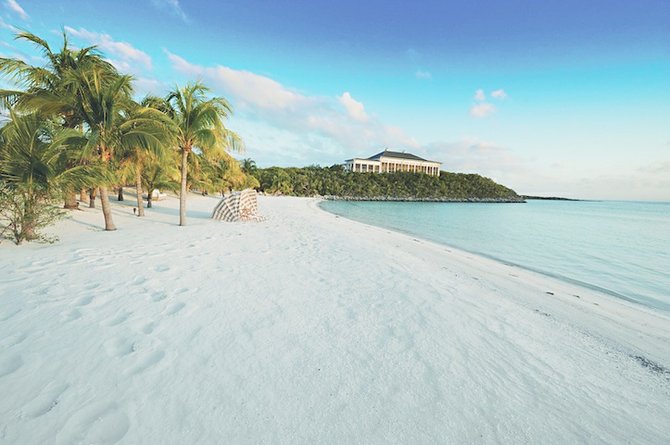 A UK national newspaper has ranked Private Island Paradise in the Exumas, listed by Damianos Sotheby's George Damianos, second among their 'world's top 10 private islands listed for sale'.

The Daily Telegraph, a UK newspaper with a Saturday circulation of 1.714 million, ranked islands stretching from Italy to the British Virgin Islands on a list that celebrates unique topography, faccessibility and footprint free beaches, the beautiful 38-acre island in Pipe Creek also received the coveted Property of The Week title.
The Telegraph's property maven, Liz Meek, described the private island as: "[Located] half an hour from Nassau, and an hour from Palm Beach, this gorgeous island combines a remote feel with convenience.
"You could be back in London in less than 12 hours – if you wanted. There is all the turquoise sea and white sand you could want, as well as enough features to keep your extended family and friends amused for weeks. Between them, the main and guest cottages sleep 22, and there is also a stone chapel, tennis courts, helipad and dock."
And another Damianos Sotheby's International Real Estate private island listing, Sandy Cay in Abaco, took the number 4 spot on Liz Meek's international list of top 10 private islands for sale around the world.
She said the amenities included with the purchase of Sandy Cay, an eight-acre island, are "its own boat lift, two dock slips and a harbour, with five boats.
"As well as a diving shop and fitness centre, there are four residences. The main house has six beds with rooms opening on to covered terraces."

George Damianos, Damianos Sotheby's International Realty's president, said of the article: "It's exciting to have two of our private islands in the top 10 for sale. Private Island Paradise in the Exuma Cays is really second to none; it has all the bells and whistles. It's well-built, planned and well put together.
"Sandy Cay is perfectly situated in the Sea of Abaco, with its close proximity to the international airport, and it has the added benefit of electricity from the mainland."