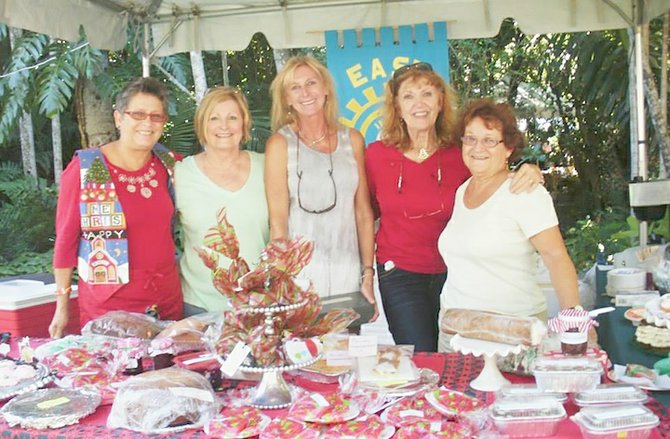 By ALESHA CADET
Tribune Features Reporter
acadet@tribunemedia.net
THIS year's Christmas Jollification saw record numbers of attendees, said organisers, as thousands of people walked through the gates of The Bahamas National Trust (BNT) last Saturday and Sunday.
Hosted by the BNT, the event was held under the theme "Have A Honkin' Conchin' Christmas Jollification." Members of the organisation are certain that close to 5,000 people attended the event.
Jollification features some of the finest arts and crafts in The Bahamas, a variety of food and a tasting of holiday spirits provided by Bristol Wines and Spirits and Bahamian Brewery.

The Arts and Crafts Exhibition featured over seventy-five talented artisans displaying wonderful crafts, jewellery and gift items, which were on sale.

Some of the artists included Linda Sands, with her cork work; Linda Turtle with her stained glass ornaments and designs; Yvette Jordan of Island Flava with her original Junkanoo dinnerware and jewellery offered by Pirates and Pearls.

Jennifer and Jonathan Bethel displayed shell and driftwood creations as well as paintings. Trevor Tucker and Dion Lewis also provided a selection of original art, prints and ceramic jewellery.
For those interested in looking to get their garden ready for Christmas, there was the Jollification plant area.
Lynn Gape, deputy executive director and director of education at the BNT, said it was great to see how the Christmas festival has grown over the years.
"Christmas Jollification started out with 20 vendors, it was just arts and crafts. It was very small, we probably had about 200 people come out. It has grown over the years and we have expanded to have more vendors. When we added on the Jolly Market, our vendor count went up to eighty plus. We starting adding more food and it has just totally and completely grown," said Ms Gape.
According to organisers, the Jolly Market has become the happening area of the Jollification.

This area features homemade jams and jellies, cakes, jewellery, hand painted tiles and straw designs. The Jolly Market also provided gifts for pets by Amanda Meyers and Lynn Gratton of LA Designs, as well as the Bahamas Humane Society.
"I think people really like seeing the Bahamian arts and crafts and I think they use Jollification as a place to meet and talk. They really love tasting the holiday spirits as it gives them ideas for Christmas cocktails and celebrations for the season. I also think families really enjoy our Christmas craft area. We have 10 to 15 different crafts that the kids can chose to make. You can do all your Christmas shopping here," said Ms Gape.
Michelle Knowles, a parent at the event on Saturday, told Tribune Entertainment she liked how the alcohol and bar areas were separated from the craft area.
"I don't think it was always like this, but I like how they made it more family friendly where the grown ups who came out to drink can go out of the way of the kids and do so. I am enjoying myself with my son in the craft area," said Michelle.
The children's crafts area sponsored by Asa H Pritchard featured nature oriented games, activities and also Christmas crafts. Another popular activity in the children's crafts area was Desi Cuevas with her balloon animals.
Ms Gape said a "Honkin' Conchin' Christmas" was created to tie in with BNT's Conchservation awareness program.
"As you know The Bahamas National Trust and partners the Bahamas Reef Environment Educational Foundation (BREEF), the Department of Marine Resources and friends of the environment are working to engage the public and talk to them about a sustainable conch harvest," said Ms Gape.
She said the 'conchservation' campaign is all about being proactive rather than reactive.
"We want to make people aware that it is a resource that if we are not careful of how we manage it, or stop taking juvenile conch, than we could probably be in the same state as Florida where we might have to close our conch fishery and of course no one wants to imagine the Bahamas without Conch," said Ms Gape.
More photos on pg B8