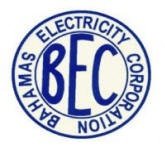 By PACO NUNEZ
Tribune News Editor
pnunez@tribunemedia.net
THE government has officially sanctioned the practice of "double dipping" by BEC employees, reversing an order to withhold the salary of workers already collecting NIB sick benefits, union leader Stephano Greene announced yesterday.
Government information officers also confirmed that any money deducted from BEC workers in connection with this issue over the last few months will be repaid, with payments beginning today.
Declaring victory in his battle with BEC chairman Leslie Miller, who opposed the double sick leave payments, Mr Greene said the decision came after a "very good" meeting with Deputy Prime Minister Philip Davis.
In the end, he said, the issue came down to the question of fairness.
"The government looked at it and saw it was the same benefit as over 20,000 workers – at the Ministry of Works, the Office of the Prime Minister, the Ministry of Labour – also get," Mr Greene said. "They realised it would be unfair to pick on us."
But chairman Mr Miller has also claimed the moral high-ground, denouncing the ability of BEC workers to collect nearly double their salary while the wider public continues to struggle with unemployment and a high cost of living.
After Mr Miller raised the issue, The Tribune revealed that double dipping of this kind is in fact a common practice across most of the 24,000-strong public service, costing the public as much as $10 million a year.
Critics lashed out at the practice, calling it a temptation for workers to commit fraud by playing sick in an effort to collect nearly twice their normal salary.
But the Bahamas Electrical Workers Union (BEWU) insisted that it is part of BEC workers' contractual agreement with the government.
Yesterday, Mr Greene thanked BEWU members for supporting the union leadership during its row with Mr Miller.
"On behalf of the executive, I want to thank members for standing by us while we addressed this.
"We know that as long as we are right, they will support us," he said.
In officially siding with the union, The Tribune understands the Deputy Prime Minister was acting on the instructions of Prime Minister Perry Christie.
Previously, Mr Davis had expressed support for Mr Miller when asked about the row, calling him "my chairman".
And, it is understood that he did not attend a meeting between Mr Christie and union leaders several weeks ago.
BEC chairman Mr Miller was not available for comment yesterday.