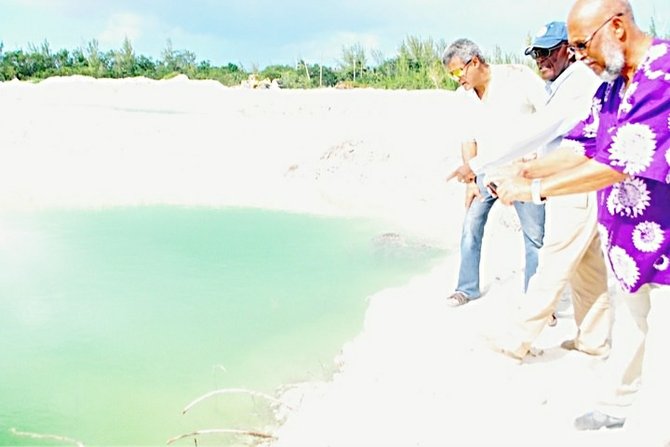 A GROWING environmentalist group is raising the alarm over what they call "yet another irresponsible construction project" in the Family Islands.
Following a recent tour of the Treasure Sands Club in Abaco, directors from Save The Bays expressed concern and dismay over dredging off a world-famous beach.
Treasure Cay, known for its pristine three miles of uninterrupted sand, has remained a point of pride for Abaconians. Save The Bays said Bahamians are expressing "deep pain" over the lack of transparency and dialogue by developers, a sentiment being echoed by local officials.
"We just want to know what the impact will be," said Gary Smith, chief councillor for the North Abaco District. "We want to see an Environmental Impact Assessment performed by an independent, reputable company. We want to see the Environmental Management Plan written by Keith Bishop, principal engineer at Islands by Design, and we would like to see the extent of the plans that Treasure Sands has for this area."
The development currently features a high-end club, pool, bar and restaurant experience, although plans are afoot to build a boutique hotel on the beach and docking facilities.
While Mr Smith criticised the lack of transparency, he noted that the community is not against development.
He urged both the developer and government to engage the public and follow the rules of public consultation before starting construction in a delicate ecosystem.
Joseph Darville, Bimini Waterkeeper and a director for Save The Bays, said the dredging may cause "irreparable damage" to the habitat of bonefish, tarpon, snappers, turtles, lobsters and a host of other marine species. Development could "drive away" wildlife, he said, and the area is bordered by fragile mangroves.
"All we ask for is responsible development, for people who appreciate and respect our Bahamian environment," said Mr Darville. "None of us owns this land or the seabed, not you, not me. Our land, our seabed is held in trust for future generations."
Save The Bays' protest in Abaco is the third major campaign against unregulated development for the growing environmental movement in recent months.
In Bimini, Malaysian-based conglomerate Genting Group is moving ahead with a 1,000-foot pier to accommodate cruise ships from Florida in an effort to fuel a new mega project and Save The Bays has continued to agitate to make Clifton Park a protected marine area.
Similar to the issues that are being faced in Bimini, the Treasure Sands Club did not release a proper environmental impact assessment or an environmental management plan to the public and residents were not consulted prior to the start of construction.
Several of those residents, along with a Save The Bays partner organisation called Bimini Blue Coalition, were outspoken, begging for information about what was planned for their small island.
The Bimini EIA was eventually published on the BEST website after the two groups made repeated calls for it, as did the Bahamas National Trust.
When it was finally made available, it sparked grave concerns over the proposed development in proportion to the size of the island and even greater concerns over its impact on the environment.
Fred Smith, QC, an attorney and another director for Save The Bays, said: "Activities in Treasure Cay are indicative of what is happening throughout the country."
Mr Smith, who is also a partner at Callenders & Co, has pushed government for the promised Freedom of Information Act, which he feels would offer more transparency and accountability.
"More than 5,000 people have signed a Save The Bays petition (www.savethebays.bs) urging passage of a Freedom of Information Act and an Environmental Protection Act," he said and he called on central government to stop "ignoring the laws and casting aside the pleas of local officials."