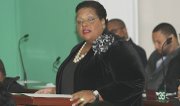 By KHRISNA VIRGIL
Tribune Staff Reporter
kvirgil@tribunemedia.net
FNM Deputy Leader Loretta Butler-Turner yesterday branded the government's decision to reschedule the Constitutional referendum as a "shameful and disrespectful" move.
Mrs Butler-Turner explained that she was angered that women throughout the Bahamas would now have to wait until next year June to be given the chance to have the same rights as their male counterparts.
She, therefore, questioned why the government had not used its summer Parliamentary recess of almost two months to consult the Bahamian people and plan the way forward.
The Long Island MP spoke to The Tribune just after Prime Minister Perry Christie told parliamentarians of his government's new plans and a deadline for the referendum, which was scheduled for next month.
"The truth of the matter," Mrs Butler-Turner said, "is this government has no such desire to make the referendum a reality for Bahamians. With all that Mr Christie said, it is clear that they are still not prepared and were not prepared when they first made the announcement that they planned to hold the referendum.
"This is so shameful and disrespectful and sad to say we have been duped and misled. When they followed through with the gaming referendum it cost the Bahamian people $1.2 million despite the fact that it was said that there was no need to have that referendum."
It is now anticipated that the bills to amend the Constitution will be introduced in the House of Assembly before year's end. Passaging the Bills through both the House of Assembly and the Senate is expected to be completed by the end of February 2014.
"Nothing surprises me anymore with this Christie-led government. This is the same Christie who thinks that talking works. It's just too much talk and not enough actions," Mrs Butler-Turner said.