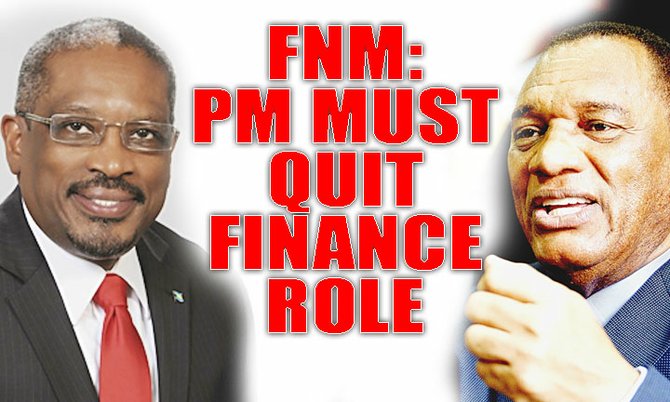 By KHRISNA VIRGIL
Tribune Staff Reporter
kvirgil@tribunemedia.net
THE Free National Movement has demanded that Prime Minister Perry Christie resign as Finance Minister in view of conflicting reports over taxpayer dollars spent on the gambling referendum.
Last week, National Security Minister Dr Bernard Nottage told reporters that the January 28 gambling vote cost around $5 million.
A few weeks earlier, Mr Christie estimated that the referendum would come out to more than $1 million. He later acknowledged that ultimately, although the referendum was expensive, it was something that the government had to do.
Those differing comments have now left the FNM up in arms and its leader Dr Hubert Minnis questioning whether the Prime Minister has total control of the country's finances.
Dr Minnis said: "One has to wonder whether the Prime Minister is deceiving the public or does he simply not know what is going on with the people's money.
"Who is at the wheel? Since both Mr Christie and Dr Nottage have different reports of the gaming referendum expenditure, are all the other departments and ministries spending more than the Ministry of Finance knows about? Are various departments running rogue and left up to their own devices?"
"This is a very, very dangerous situation for the Bahamas as our economy is still trying to recover. If they do not get a handle on the Finances of this country we could be headed for the same fate as Greece.
"If Prime Minister Perry Christie cannot handle Finance as his portfolio he should step down and appoint someone who is capable of managing the country's money."
Dr Nottage, who is the Minister responsible for elections and referendums, said last Thursday that the gambling vote was not successful because the electorate was "ill prepared" for the questions on the ballot.
As a result, after announcing last Wednesday that the referendum to amend the constitution will not take place until June 2014, Mr Christie has promised that the government will run a comprehensive education campaign for Bahamians.
The Constitutional Commission in its report presented more than 70 recommendations, however around 40 of them would need formal constitutional amendments. Referenda to change the constitution are expected to be staggered over several years.