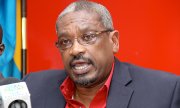 By KHRISNA VIRGIL
Tribune Staff Reporter
kvirgil@tribunemedia.net
THE Free National Movement is not satisfied with the itemised list of  the $1.2 million spent on the January 28 gaming referendum tabled in Parliament yesterday.
Opposition leader Dr Hubert Minnis said his party expected that the cost of the UK consultants, hired to advise the government ahead of the vote, would have been included. 
He demanded that the government release to the public the cost of the consultants. He also wanted that information laid on the table of the House.
"The consultants should be a part of it," Dr Minnis said, "because leading up to the referendum, they advised the government on gaming in the Bahamas, which was advice that the public was never even privileged to.
"You cannot buy a cake and only give the price of a slice and not the whole cake," he said.
In the House of Assembly, when asked by Dr Minnis if he could give an estimate of the cost of the consultants, Dr Nottage said he did not know as it did not come before his ministry.
According to the breakdown of expenditure the numbers vote, which was $1,238,092.95 closed under budget as the treasurer had allocated $1,393,100 for its expenses.
On Tuesday, Dr Nottage had vowed to make public a categorised listing of the expenditure of the referendum stating that he held his integrity close to him.
He insisted that it had nothing to do with the FNM's repeated calls for the information. Dr Nottage could not tell reporters how his estimate of costs were off by about $4 million. Saying that his mistake was regrettable, he refused to comment further.
The matter reached a climax after Dr Nottage inadvertently told reporters last week that by his estimation the referendum cost about $5 million. That statement sparked a wave of public comment as weeks before Prime Minister Perry Christie said the vote was more than $1 million.
The FNM immediately called for Mr Christie's resignation as Minister of Finance because of the confusion over the referendum accounts.