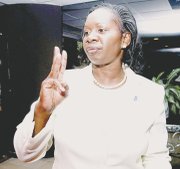 By RASHAD ROLLE
Tribune Staff Reporter
rrolle@tribunemedia.net
BAHAMAS Union of Teachers president Belinda Wilson is calling for Education Minister Jerome Fitzgerald to resign for choosing to go ahead with the decision to cut the salaries of teachers who participated in a sit-out on September 9th.
Ms Wilson said the minister's decision to cut the salaries shows his unwillingness to work with the BUT. 
Teachers who engaged in the sit-out recently received letters informing them of their salary cut, Ms Wilson noted, adding that they "are very angry because" the minister "is adding fuel to the fire." 
A press statement from the BUT said: "President Belinda Wilson and members of the executive team of the Bahamas Union of Teachers held a very productive meeting with Prime Minister Perry Christie and Minister of Labour Shane Gibson yesterday to discuss the many concerns raised by the union.
"Despite this meeting, the Minister of Education continues to threaten teachers publicly through the media and has issued more letters for salary cuts. The government owes hundreds of teachers millions of dollars, maybe he should spend his time trying to get the money paid to the teachers.
"Also," she continued, "we are warning the minister to stay out of the union's internal affairs, it has nothing to do with him, he should focus on getting the Ministry of Education in order. If he does not want to work with the union then he can resign or the prime minister can fire him, because the union is here to stay and ministers come and go and it seems as though he is on his way out.
"Maybe he needs to be informed about the 1981 strike where teachers did not work for more than three weeks. Yes, we love our students, but teachers will not and the union will not sit idly by and allow any minister to threaten, victimize and mistreat any member of the BUT."
Asked how BUT will react to the planned salary cuts, Ms Wilson said: "There's something called due process. If you don't come to work tomorrow, could your boss tell you Friday that you are getting a pay cut? No, he has to investigate. What the minister is doing is a law unto himself. And we have all sorts of avenues to go through until we get what we want. Striking would be the last thing."
Ms Wilson also said that in her view, conciliation efforts between the BUT and the Ministry of Education at the Department of Labour was "a waste of time."
The talks between the two parties began after the BUT filed seven trade disputes against the government last month. "The ministry has just been filibustering and stalling," Ms Wilson claimed. 
As for Anatol Rodgers High School and Maurice Moore Primary School whose principals the BUT wanted removed, Ms Wilson said the issues at the two schools "will remain until they are addressed in the proper manner."