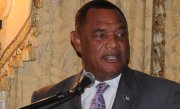 By SANCHESKA BROWN
Tribune Staff Reporter
sbrown@tribunemedia.net
PRIME Minister Perry Christie denied yesterday that he instructed Government House to charge the FNM for a reception following the appointment of Senator Carl Bethel.
While making his contribution in the House of Assembly, Mr Christie said it was the decision of the Governor General to charge for receptions held on Government House grounds.
The Prime Minister also warned Dr Hubert Minnis, leader of the FNM, not to "demand" action from him through the media, if he wants a favourable response.
"You have to make a judgment as to when you want a result from a Prime Minster. When you write me and you publish the letter before I see it you are not expecting me to help you pay no bill. If you write me a letter saying that Government House caused your people to have to spend $2,500, the first thing you should do is understand what the policy of Government House is and to know that no Progressive Liberal Party Government sits down and makes a decision as to who has a party and who doesn't have a party, we don't do that," he said.
"Go and talk to Alergnon Allen when his wife was made president of the Court of Appeal, she wasn't even a politician and he spend $4,000 of his own money with Sir Arthur Foulkes being the Governor General because of this policy. And so when I spoke to Sir Arthur I said: 'What is this all about and he said 'this is the policy' and I said 'write me, tell me what the policy is in writing and then tell me how I can change it so that we don't have to have confusion'. But I know you don't expect for me to help you pay no $2,500 the way you approach me."
The Tribune contacted Government House to find out more about the new policy, but calls were not returned up to press time.
The issue arose after opposition leader Dr Hubert Minnis said he "does not care" if he is never invited back to Government House after he refused to pay for a reception held there last week.
The FNM was charged almost $2,500 for a reception following the appointment of Senator Carl Bethel, the Governor General's son–in–law.
Speaking with The Tribune Dr Minnis said if the government does not have the money they should cut back on all expenses, not just FNM events.
"Why should we be charged for us carrying out our constitutional duty? We have senators to ensure that the government is doing what they say they are doing and in the best interest of the people. If they don't have the money maybe they should stop sending Mitchell all over the world; be conservative in your spending," he said.
"Why should I have to pay? Why are they paying for PLP and not FNM events? In a crisis like this the government must be wise and enact policies going forward saying 'we will pay for the first 50 people and you pay for the rest,' but do not say we have to pay for the entire thing when they are having events at the cost of the government. They had an event on Friday, big event, I am sure the PLP did not pay for that. "
When asked if he is worried he may not be invited back to Government House if he does not settle the bill he said: "I will not die if I do not go back, it won't kill me, I promise you."
In an invoice sent to the FNM, the charges for the reception totalled $2,474.26.
Dr Minnis said the party was not informed until a day before the reception that they would have to pay.